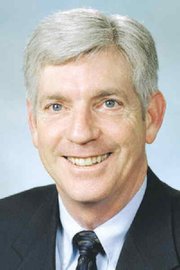 OLYMPIA - Rep. Bruce Chandler (R-Granger) was elected late last week to the position of Republican Leader in the state House of Representatives. The Granger lawmaker was the unanimous selection by his colleagues during a half-day caucus meeting in Tacoma.
Chandler joined the House Republican leadership team last September when he was elected ad Deputy Republican Leader. While promotion Chandler to the top leadership post, the House Republican caucus selected Rep. Mike Armstrong (R-Wenatchee) as the new Deputy Republican Leader.
As leader of the House Republican caucus, Chandler will oversee the Republican leadership team that will set legislative priorities and work toward the adoption of bills supported by the caucus. Chandler said he will focus the efforts of the caucus on policies that will create jobs and restore prosperity to Washington families.
"We have an opportunity to capitalize on a stabilizing economy and transition into a full-fledged recovery that will bring new jobs and a better standard of living to working families in our state," Chandler said.
"But it will only happen if government serves as a catalyst for job growth, not an impediment.
"We will support policies that will make Washington a good place to do business. We want to create a government that provides opportunity and contributes to the prosperity of families, not burden them with wasteful spending and tax increases," Chandler added.
Chandler, 52, is beginning his fourth term in the legislature. He represents the 15th Legislative District. He has 25 years experience in the fruit tree industry and currently owns and operates a commercial orchard. He and his wife, Julie, live near Granger.
Other members of the Republican leadership team include Rep. Dan Newhouse of Sunnyside, who holds the position of Assistant Floor Leader.