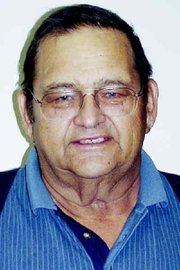 Long-time Sunnyside School District advocate and board member Fred Kilian, 64, died Saturday, Nov. 20, at Yakima Memorial Hospital.
Kilian, who served as a school board member from 1981 to now, will be greatly missed, said Mac Chambers, former Sunnyside School District Superintendent and long-time friend.
"We've lost a real gentleman and a strong supporter of schools and the whole community," said Chambers.
"You could always count on Fred for good, common sense decisions," said Chambers.
"People related to him. He was a great guy and the strength of the school board for many years," he added.
"Fred was an exemplary board member," agreed Dr. Rick Cole, Sunnyside Schools Superintendent. "As a board member his primary mission was always to do what was best for all students," Cole said.
"He never stopped pushing for the Sunnyside School District to be the best district in the state," Cole said.
Kilian, who graduated in the top 5 percent of the Sunnyside High School class of 1958, could have ran his own corporation, said long time pal Cathy Mears.
"He was a very intelligent man and his passing is a tremendous loss to the district and to education," Mears added.
Mears said the Sunnyside School District will have a tough time replacing him on the school board. "In fact, no one will ever replace Fred," she added.
"He was always practical, caring about all kids and a calming person," said Sunnyside High School Principal Dennis Birr. ''Fred Kilian really cared," Birr added.
"He was the finest man I've ever had the pleasure to work with and call friend," said Dr. Larry Wise, who served as Sunnyside School District Superintendent from 1990 to 1993.
In recent years Kilian and Wise had become close friends. "My heart goes out to his family, especially to his adorable grandchildren," Wise said.
He was one of the best school board members I ever worked with, Wise added.
Loved by his family and friends, those in the agricultural world also had a lot of respect for the Outlook grape farmer.
He rose to the rank of chairman of the National Grape Co-op, helping to improve the grape industry not just for Washington growers but growers across the nation, said Mike Concienne, the senior regional manager for Welch's and National Grape Co-op.
"Fred was committed and dedicated to the industry," Concienne said.
"He was always fair and up front in his dealings. He was the backbone of the National Grape board for many years," Concienne said.
Kilian is survived by his wife of 37 years, Karon, and four children and six grandchildren.
Visiting and visitation will be held Friday, Nov. 26, from 10 a.m. until 5:30 p.m. Funeral services for the Sunnyside native will be held Saturday, Nov. 27, at 10 a.m. under the direction of Smith Funeral Home.