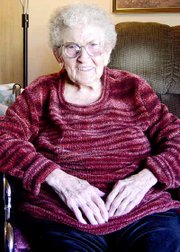 GRANDVIEW - Long-time Lower Yakima Valley resident Vera Massey will celebrate a milestone later this week.
In honor of Massey's 100th birthday, family members and friends are planning an open house in her honor. The celebration will be held Friday, Nov. 26, at noon at the Orchard House assisted living center in Grandview, where Massey currently resides.
A former employee of Libby's, Massey lived and worked in Sunnyside and Grandview most of her life. Technically, Massey doesn't turn 100 until Monday, Nov. 29. Friday's open house celebration is open to all who want to wish the woman well.
Massey has three children-Dena Phillips of Sunnyside, Roy Massey of Quincy and Mary Jacobsen of Soap Lake. She also has six grandchildren.