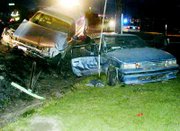 Failing to stop at the stop sign at the intersection of Hwy. 241 and Factory Road has been determined to have been the cause for the motor vehicle accident that slowed traffic from all directions for over an hour Monday afternoon.
The collision occurred at about 4:15 p.m. when Jose L. Melo-Lobato, 20, of Mattawa failed to stop at a stop sign, according to Washington State Patrol Trooper Gary Miller, who was investigating the crash.
Melo-Lobato's 1989 Chevrolet Cavalier and a 1979 GMC pickup truck driven by Gabriel A. Reyes, 45, of Sunnyside landed in the front yard of a home at the intersection, leaving behind them a path of broken glass in the road and snapping off the stop sign.
According to Miller, Reyes was traveling northbound on Hwy. 241 when it collided with Melo-Lobato's vehicle.
Melo-Lobato and his passenger, Hermelando C. Melo, 56, of Mattawa, were both injured and taken to Sunnyside Community Hospital for treatment. Both were wearing their seat belts at the time of the crash. Reyes was also wearing his seat belt. He was not injured.
According to Miller, Melo-Lobato was cited with failure to stop at a posted stop sign and not having a valid operator's license.