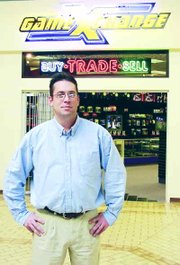 Barry Shackleford doesn't think used video games ought to be left to collect dust on a shelf. The former Wenatchee man thinks those abandoned games ought to be put back into use.
"After all, they rarely wear out," he said.
Earlier this month, Shackleford opened "GameXChange" in Sunnyside's Mid Valley Mall. The shop, located next to Gen X, is brightly lit with several flat screen television monitors demonstrating the action and artistry of the latest in video games.
Shackleford, who had 15 years experience working in the video game world, is now in Sunnyside ready to buy or trade old games, as well as sell the latest advancement in the popular video equipment and accessories.
Shackleford hopes to sell new games, buy old games and trade refurbished games to other video game enthusiasts in the Lower Valley.
"Just because you are bored with your video game, doesn't mean the next person coming into the shop won't enjoy its challenges," Shackleford explained. "I refresh them and they are as good as new and ready for more play time," he explained.
Shackleford offers a way for families to dispose of abandoned video games, while helping them to obtain new and more challenging games.
"It doesn't matter if the game is old, there is someone out there who may still want to play it," he said.
Before coming to Sunnyside Shackleford operated a similar business with his brother in the Portland, Ore. area.
He said the concept of exchanging games was the result of realizing that children out grow some games and they just end up taking up space.
"But buying the games brand new can be very expensive," he said.
That was when the brothers developed the trading and exchanging concept, Shackleford explained.
"It just makes sense. There is always someone out there who wants to learn how to use a Super Nintendo, maybe that one you have in the back of the closet," he said.
The GamesXChange is open daily from 10 a.m. to 8 p.m. during the holidays.