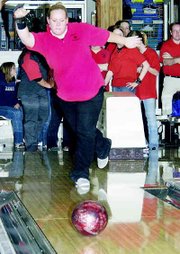 Nothing flashy, just middle of the road scores. That was all the Eisenhower Cadets needed to subdue the Sunnyside High School girls bowling team Tuesday afternoon.
Ike registered a 4-0 sweep of the Lady Grizzly bowlers. And, the Cadets earned the whitewashing without one single individual game above 151.
For Sunnyside, yesterday's defeat was its second of the season in as many outings. There were two bright spots for the Lady Grizzlies, though, as senior Desiree Pritchett and sophomore Veronica Uribe posted the three high individual games on the afternoon.
Pritchett's two-game total was tops for all the bowlers. She rolled a 329 series on games of 175-154. Uribe opened with a 160, capping her two-game series with a 121.
Eisenhower's top bowler yesterday was junior Keisha Walsh. She rolled games of 136-148 for a 284 series. The four other Cadets had two-game series ranging from 273 to 258.
In Tuesday's opener, staged at Sunnyside's Valley Lanes, Ike narrowly squeaked by the Lady Grizzlies, winning 683-663. Senior Kendra Donahue and sophomore Mary Davis each tossed a 151 to lead the Cadets to the opening game win. In the losing cause, Pritchett (175) and Uribe (160) had the top scores for Sunnyside. Junior Katie Weets, who didn't bowl for Sunnyside in its season opener last week against Selah, had the third high score for the Lady Grizzlies in the opener with a 118. Senior Cora Rodriguez and junior Megan Saunders closed out the scoring for Sunnyside with efforts of 116 and 94, respectively.
In the second contest, sophomore Kayla Case and Walsh shot games of 149 and 148, respectively, to power Ike past Sunnyside, 666-616. For Sunnyside, Pritchett's 154 was tops. Saunders added a 130, Uribe a 121, Rodriguez a 109 and Weets a 102.
In the two concluding Baker games, where each girl of the five-member squad alternates taking shots throughout the 10 frames, the Cadets were victorious by 148-99 and 158-141 scores.
Sunnyside's No. 1 JV squad came up on the short end of a 3-0 score to Ike yesterday. The two squads only bowled one Baker game. The top effort turned in on the Sunnyside side was a 215 two-game series by Maribel Rodriguez (99-116). Tasha Bowers had the strongest outing for Ike, rolling games of 135-129.
In No. 2 JV action yesterday, Ike also won by a 3-0 count. For Sunnyside, Crystal Cleary had the high two-game series on efforts of 99-113. Jennifer Dean posted the top scores for the Cadets (132-131).