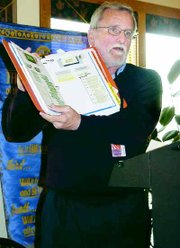 When emergencies happen in the school setting, John Hughes' adrenaline kicks in. Whether the incident is a missing child, a suspected building invasion or a chemical disaster, Hughes wants the Sunnyside school staff to be prepared to handle the emergency.
"Knowing what is expected procedures during an emergency helps staff to keep children calm and safe as possible," he explains.
Toward that goal, Hughes, who is the director of the safe and effective school programs in the Sunnyside School District, works constantly to devise and implement safety procedures for staff and students. He organizes routine building drills to help them to be familiar with drills in order to remain calm in the event of the unexpected disaster.
Recently, for example, when the school district received word a Sunnyside public school student was involved in a shooting incident in the community, the district implemented an immediate lockdown. "We took that measure to ensure all children at school were out of harm's way," he explained.
The incident was later revealed to be a fatal shooting of a Chief Kamiakin student.
It's tragic times such as that shooting incident which occurred outside of the schools when safety procedures automatically fall into place. "For the rest of the year, it's all practice," he said.
Those in the safety field always feel successful when nothing bad is happening, Hughes told the Sunnyside Noon Rotarians earlier this week.
However, he noted, the reality is that when nothing bad is happening it is because someone has made sure there are prevention and intervention strategies in place to keep staff and students safe.
"And, drills are conducted regularly to help everyone remember what to do in case of an emergency," he added.
Hughes, who has been with the Sunnyside public schools for the past four years, has worked with the district safety teams to create a manual of procedures which are regularly reviewed.
Procedures for school evacuations, lockdown procedures, as well as shelter-in-place drills are all part of the thick manual located at each building in the district.
"Each time we run a drill, we review the event to see if all angles of the situation have been covered," he explained.
"If something comes up which we haven't covered, we work to create a strategy which will cover that eventuality," he explained.
In addition during the past year, Hughes' safety team have worked to implement an emergency crisis telephone line, which will provide parents and patrons with information about emergency procedures involving the schools.
The district's crisis line, which is now in place, provides such information as school closure, as well as instruction for parents in the event of a lockdown or evacuation situation, Hughes explained.
The number is 836-4172.
"It's a 24-hour line and in the event of disasters or emergencies it will be updated regularly to let parents know what is happening in the district," he added.
"It's one more tool to help us keep students safe and parents informed," he added.