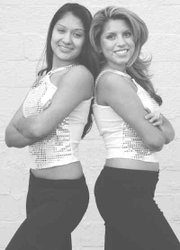 Bright lights, glitzy outfits and the fastpaced setting of sports is now the life of two young Sunnyside women.
Rene Vargas and Rosie Moran are two of the newest members of the Yakima Sun Kings Continental Basketball Association dance team.
Vargas, 19, made the Sun Kings dance team during tryouts in August. Moran, 18, is an alternate on the 14-team squad. She will fill in on the team when someone is not available.
Both Vargas and Moran have extensive dance experience, having been part of the Sunnyside High School Grizzliettes dance team for four years.
The idea to try out for the Sun Kings came from Moran.
"I was interested in pursuing dance after high school," said Moran. "I asked her (Vargas) if she wanted to come with me for the tryouts."
"I had nothing to lose," smiled Vargas when asked about Moran's proposition. "I couldn't turn down Rosie."
Moran said she wanted to obtain some dance experience while not having to leave the area. Moran said she figured the Sun Kings dance team was the obvious choice for her.
Being part of the Sun Kings dance team also allows both women to attend school at Yakima Valley Community College. Moran wants to pursue a career in teaching while Vargas plans to study law enforcement.
So both Lower Valley ladies ventured down to tryouts on Aug. 14 in Selah where they vied against 20 other women for a spot on the Sun Kings dance team.
Tryouts was something very different for both young ladies.
"They were nerve-racking," smiled Moran. "I was not used to being the new girl."
"It was very scary," added Vargas.
Moran said the strangest part for her was being the new girl on the block. She said that many of the other women who tried out had either been on the Sun Kings dance team before or carried an impressive dance resume into the tryouts. Moran said it was a bit different for her because in high school she was used to being the girl that everyone on the Grizzliettes looked up to.
Moran first became interested in dance from her older sister, Monica, who was on the high school drill team. Moran, though, said at first she wanted to be a cheerleader, but after trying out and making the high school drill team she doesn't regret her move.
Vargas became interested in dance through her parents. She was interested in following in the footsteps of her mother, who was a cheerleader in high school in Oregon.
"I wanted to be a cheerleader just like my mom," said Vargas.
Moran said she was a bit shocked after three weeks of tryouts with being named an alternate. Moran, though, said she realized it would be a tough field.
"I was excited and then mad," said Vargas.
Vargas said she was upset that Moran was named an alternate to the squad.
The Sun King dance team is coached by Aimee Herrol, who used to dance for the Sonics.
"She is awesome," said Moran.
Both Moran and Vargas performed during the Sun Kings season opening games this past weekend.
Moran said she had never been nervous during a high school performance, but last Friday the butterflies were churning as she prepared to enter a new dance world. Vargas said as an alternate she felt there was a lot more for her to prove to the team and the coach.
"It was scary," said Vargas about opening night. "The players are huge."
Vargas said since the dance team sits around the baseline during games they are always having players dive into them, which keeps the dance team on their toes.
This past Saturday night was exciting for both Vargas and Moran as the Seattle Supersonic dance team came to Yakima.
"It was awesome," said Moran. "I felt like a little girl."
"They were gorgeous," said Vargas.
Both Vargas and Moran make the trek to Selah every Monday, Wednesday and Friday morning to practice from 6 to 7:30 a.m.
The experience for Moran so far has been thrilling, but yet still challenging. Moran said she feels with being an alternate she has to give 110 percent extra at practice and when she performs.
Vargas has also enjoyed being a member of the Sun Kings dance team.
"The girls are so sweet," said Vargas. "It is challenging. We do dance moves I have never seen before."
The next home game for the Yakima Sun Kings is Friday, Dec. 3.