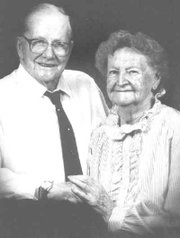 Thanksgiving day holds special memories for Lloyd and Esther Freeburg of Sunnyside.
It was 65 years ago on Nov. 23, 1939 that they were married in the parsonage of Selbu Lutheran Church in La Crosse. That year, Thanksgiving day fell on Nov. 23.
Over the years they have celebrated their marriage many times and in many places. This year, the couple was in the hospital as Mr. Freeburg, 90, is recovering from an illness.
On their wedding day they had a small ceremony, in which only the bride's father, Hans Kahler, and the groom's brother, Leonard Freeburg, attended.
A Thanksgiving dinner at the Kahler's house followed the ceremony.
"They invited family and close friends to have dinner with us," said Mrs. Freeburg.
This year the couple's anniversary was two days before the national holiday, but both days still hold significance in the couple's lives.
Lloyd Freeburg and Esther Kahler met at a grange dance in Washtucna three years before they were married.
Seeing what he described as a tall beauty across the dance floor, Freeburg turned to his buddy and announced that she was the woman he was going to marry, said Mrs. Freeburg.
"From there he pursued me for three years," she said.
Her husband also wanted to have a furnished house for her to move into when they were married. When the couple returned from their honeymoon to Grand Coulee Dam, they moved into their home in La Crosse, which was bought and paid for before the wedding.
"He traded his car for a whole house of furniture, including a Home Comfort stove, a davenport, a piano and two bedroom sets," said Mrs. Freeburg.
In the early years of their marriage, the couple lived in La Crosse.
Mr. Freeburg worked for Union Oil Co. and later he and his brother built and ran a full-service gas and auto repair station in the community. He also served as fire chief in the small town for eight years.
In 1951, the couple brought their young family to Sunnyside, where Mr. Freeburg established Freeburg's Self Serve Gasoline on Highway 410. He also opened a U-Haul trailer rental and Servisoft Soft Water franchise, which is now Sunnyside Ecowater Systems.
"A friend of ours had a soft water business and that's one of the reasons we came to Sunnyside," said the grandmother of nine.
She also ran a small ice house, selling bags of block and crushed ice in the community.
"I ran the ice house for many years," she said. "It put my kids through school," said the mother of David Freeburg, Kathy (Freeburg) Swenson and Elizabeth (Freeburg) Jones.
When moving to Sunnyside, the couple became charter members of Our Saviour's Lutheran Church.
Mrs. Freeburg said that her secrets to a long and happy marriage are to get mad and say what you think.
"Then, don't think about what you said. Forget it the next day," she said.
"That's my secret to a great marriage. Be forgiving."