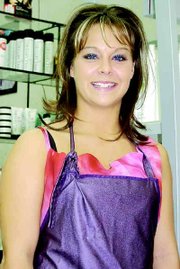 Amy Hurst is really young to be both a business owner and the employer of three people. Most young women her age are just setting out on their careers.
But, then unlike most young people, Hurst has known what she has wanted to do with her life since she was a little girl.
"I've always wanted to be a salon owner," she smiled.
At age 22, the young woman operates a popular hair salon in the Mid Valley Mall, where she has been her own boss for the past three years.
"I figured out early on that it made more sense for me to work hard for myself," she explained.
"Being my own boss allows me to work as hard as I want," she explained, noting her philosophy is simple. "I know I'll get out of life what I put into it," Hurst said.
What the energetic young entrepreneur puts into her chosen career is a seven-day-a-week schedule that includes ordering, scheduling and all of the other details that go into operating a small business.
And the petite salon operator, who also loves water skiing and riding horses, wouldn't have it any other way.
Hurst began her career as a beauty salon operator by attending Sunnyside Professional Beauty School while still attending Sunnyside High School. Immediately upon graduating she began working full-time at Regis in the Mid Valley Mall in Sunnyside. Before long, Hurst realized she was working really hard for others and decided it would be more rewarding to work for herself.
"When Regis Salon, a national franchise, left the mall, I decided to take over the spot as an independent," she explained.
Working with Hurst is her friend Kristin Stafford, as well as Dora Bravo and Bethany Myers.
"We all get along really well. We try to take care of one another and to be fair with one another," Hurst said.
Hurst said working in the mall means weekends are the busiest time of the week for the salon workers.
"But we try to have at least one weekend off a month to spend with our families," she said.
She said her biggest clientele is the drop-in customer, the person who decides on the spur-of-the- moment that a new hairdo is the most important thing on her immediate schedule.
"But we have a lot of people who call in requesting appointments with one of us," Hurst added.
Hurst gives a lot of credit to her mother, Gayle Hays, who is also a businesswoman in Sunnyside.
"I might not have been able to do this if Mom hadn't helped me out," Hurst said.
Hays, who now operates the Sunnyside Beauty Academy, went to beauty school to become a salon operator in order to help her ambitious daughter.
"She helped us a lot our first year in the mall," Hurst said.
Even though her retirement from the world of hair care and grooming is in the distant future, Hurst already knows what she will do in retirement. I want to serve soup and sandwiches at a lake side resort," she said.
"I want to take the afternoons off to water ski and hang out on the water.
"But I'll never quit working," she grinned. "I like working too much."