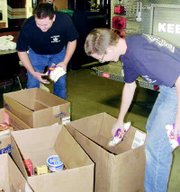 Pounds and pounds of food packed in cardboard boxes was delivered by ambulance to five Sunnyside families Wednesday afternoon.
Sunnyside firefighters joined together to provide families a turkey dinner with all the fixings for their Thanksgiving dinner.
"We were talking about how we keep expanding our Christmas program every year and this year I thought it might be kind of nice to do a few Thanksgiving families," said Sunnyside Fire Department Paramedic Josh Roe.
Roe contacted Yollie Widdows at Sunnyside Community Hospital and got the names of five families needing assistance for Thanksgiving. In total, 31 people had a hot Thanksgiving meal from the food delivered Wednesday.
The families aren't the same ones who will be helped during the Christmas season, said Roe.
"This way we can spread it out to as many different families as possible," he said.
A joint effort between the fire department union, volunteers and cadets, Roe said money was donated to purchase most of the food and that the turkeys were donated by The Valley's Market.
"All three parts of the fire department contributed in some way," said Roe, who hopes to continue and grow the program next year.
Cadet Paul Groenewold finished up a half day of school at Sunnyside Christian before heading to the fire department to help distribute the food into baskets and deliver it.
Groenewold said his interest lies in helping the community, which is why he decided to volunteer for the project.
Roe contacted the families that received the baskets before delivering them.
"There's one family that's just beside themselves with gratitude," said Roe. "This really means a lot to them."
Besides providing food, Roe and his helpers also checked the homes for working smoke detectors. Broken smoke detectors were replaced, as were the batteries in other smoke detectors.