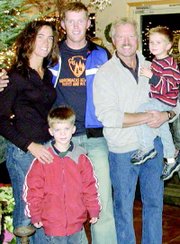 Imagine going into the unknown, not knowing what lurks behind any corner, crack or crevice. Imagine putting your life in the hands of others and being responsible for their lives, as well. For some of us, a scenario like that might never happen. But for Will Gannon it was an everyday occurrence during the year he spent in the Army in Iraq.
Gannon, 23, is the son of Lou and Teresa Gannon, who own Yellow Rose Nursery in Prosser. Gannon is a 1999 graduate of Davis High School, but attended Sunnyside High School for three years prior to moving to Yakima.
Gannon returned in late October from a year-long stint in Iraq, where he was a member of Bravo Company, 2nd Battalion, 3rd Infantry Regiment, which is a unit of the 3rd Brigade, 2nd Infantry Division out of Fort Lewis.
For the past two years and nine months Gannon has served in the Army, where he currently has the rank of specialist. Besides having the distinction of serving his country in Iraq, Gannon will be receiving another honor in the next few weeks-a Purple Heart-for an incident that occurred shortly before he came home.
Military service is nothing new to the Gannon family. His younger brother, Jon, is currently serving in Iraq with the 1st Brigade, 25th infantry division. Gannon said his younger brother's division relieved his unit when they returned from Iraq.
Gannon first joined the military with his brother while attending college.
"I was bored with that (college)," said Gannon.
In October 2003, Gannon and his unit were sent to Iraq, where they would act as a security detail.
"We were moved all over," said Gannon.
The role of Gannon's unit varied a lot, depending on what was needed. Gannon said his unit would do everything from patrols to acting as security details for convoys. Gannon said the main focus of his unit was to be able to react quickly and effectively to any situation.
Gannon's unit mainly operated out of Mosul, which is the second largest city in Northern Iraq. Mosul is one of the towns with the strongest anti-American sentiment to the actions taking place in Iraq, said Gannon.
It was an entirely new world for Gannon when he arrived in Iraq.
"There was a lot of real uncertainty," said Gannon. "It is definitely a wake-up call. It is a pretty desolate, pretty dirty place."
Gannon said it was a very different experience for him to actually be in Iraq, compared to what he had seen prior to arriving in the country.
Gannon's unit also did a stint in Baghdad and in a city called Blad.
"Baghdad is a pretty crazy place," said Gannon.
Craziness was everywhere for Gannon in Iraq, who nearly lost his life twice while serving.
In April, Gannon was on detail in a new Amy vehicle called a Stryker. Gannon said the military had a lot of apprehension about using the vehicle because of the design. The Strykers are designed to transport soldiers to a site more quickly and effectively than other military vehicles.
During the April incident in Mosul, Gannon was patrolling an area in a Stryker. Gannon said his group was going under an overpass when a 152-millimeter artillery round was remote-detonated. The group was able to drive about 600 meters before getting out of the Stryker to do a security check.
"It was pretty crazy," said Gannon.
The force of the blast knocked Gannon to the floor of the Stryker.
Gannon said the vehicle went undamaged in the blast.
Training is what Gannon credits his ability to get right back out and perform his job.
"You just do it," said Gannon. "You have been trained to."
In early September, Gannon had another close brush with death. Gannon was on a security patrol at night in Mosul. Gannon said it was difficult to see but a young kid, he estimates around 14 years old, popped out from around a corner and threw a grenade at the patrol.
"He was real young," said Gannon. "The grenade was real loud."
Gannon said the explosion sounded like a glass bottle shattering. The grenade was within 10 meters of the patrol. Gannon took shrapnel to his right arm, left leg and side of the head. Gannon still has pieces of shrapnel from the attack in his left leg.
Gannon was in shock from the attack and was transported to a medical facility for treatment. He was out of duty for two days.
"I was real lucky," said Gannon.
Gannon went back to the site shortly after being released and said he found a ton of shrapnel from the attack in a nearby metal gate.
The paperwork is still being completed on the Purple Heart Gannon is scheduled to receive. He estimates it will be in December or early January when he is presented with what many consider to be the military's highest honor.
"I feel good about receiving the Purple Heart," said Gannon.
Gannon has also had some other brushes during his stint in Iraq, mainly firefights.
"You do your best to (battle during a firefight) or you get the hell out of there," said Gannon.
Gannon was in Iraq when former President Saddam Hussein was captured.
"Most of them (the Iraq people) hate Saddam," said Gannon. "They were happy he was caught."
While in Baghdad, Gannon saw Hussein's palaces.
"His palaces are kind of spectacular," said Gannon.
Gannon's company didn't see any of its soldiers killed in action. Gannon said his company is the only he knows of not to have suffered any fatalities in Iraq.
"I am definitely not in a hurry to go back," said Gannon.
Gannon will be in the Army until March 2006. His company shouldn't be returning to Iraq in the near future. One of Gannon's plans is to go back to college and study landscaping.
There is nothing glamorous about what Gannon did while in Iraq. He said the days were long and tiresome and often he didn't know what his group would be facing in the streets of Iraq.
"I can't even describe it," said Gannon. "It is a hard war to fight. You never know who you are fighting. I am so glad it is over. I am glad to be home and in one piece."