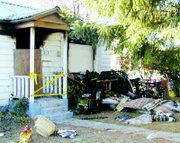 GRANDVIEW - Twelve members of the Grandview Fire Department worked to douse a blaze that destroyed a home at 312 Washington St. this past Saturday.
According to the Grandview Fire Department, the alarm for the residential structure fire went out at 5:53 p.m. on Nov. 27. When firefighters arrived at the scene, they found the home was 30 percent involved with flames. Firefighters worked for nearly an hour to get the house fire under control.
Grandview Fire Chief Charles Damron said this morning (Monday) that it is unknown who owns the home that was involved in the blaze. The home is considered to be a complete loss.
Following an investigation of the fire scene, the local fire department determined that the cause of the blaze was either a gas furnace malfunction or combustibles placed too close to the heater.