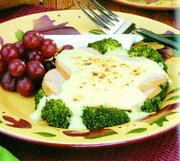 As the holidays grow closer there is an inevitable time crunch when it comes to making time for work, family, Christmas shopping and decorating. There is little time to sit down and plan meals, let alone make them.
Thankfully, Thanksgiving provides a plethora of food after the actual day of celebration. It provides many families with days of leftovers to be made into a variety of creative but easy dishes for the family.
An easy turkey bean chili in the Taste of Home "The Best of Country Cooking" cookbook can be prepared and cooked in less than half an hour.
Turkey Bean Chili
serves 6
2 C. cubed cooked turkey
2 cans (14-1/2 ounces each) diced tomatoes, undrained
1 can (15 ounces) black beans, rinsed and drained
1 can (15 ounces) great northern beans, rinsed and drained
1 C. barbecue sauce
1 medium onion, chopped
1 tsp. chili powder
1 tsp. ground cumin
In a large saucepan, combine all ingredients. Bring to a boil. Reduce heat; simmer, uncovered, for 10 minutes.
Another quick and easy meal combines left over turkey breast with frozen broccoli in a white sauce. The meal can also be prepared in under 30 minutes.
Turkey Divan
serves 4
2 packages (10 ounces each) frozen broccoli spears
1/4 C. butter
1/4 C. all-purpose flour
2 tsp. chicken bouillon granules
2 C. milk
3/4 pound sliced cooked turkey breast
1/4 C. grated parmesan cheese
In a saucepan, cook broccoli until crisp-tender. Meanwhile, in another saucepan, melt butter; stir in flour and bouillon until smooth. Gradually add milk. Cook; stir for 2 minutes or until thickened.
Drain broccoli; place in a greased 13-inch x 9-inch x 2-inch baking dish. Top with half of the sauce and all of the turkey. Spoon remaining sauce over the top. Sprinkle with cheese. Broil 4 to 6 inches from the heat for 3 to 4 minutes or until golden brown and edges are bubbly.
Combining the turkey with spaghetti noodles and cheese makes an easy turkey tetrazzini
Turkey Tetrazzini
yields 4 to 6 servings
1 package (7 ounces) thin spaghetti, broken in half
2 C. cubed cooked turkey
1 C. sliced fresh mushrooms
1 small onion, chopped
3 T. butter or margarine
1 can (10-3/4 ounces) condensed cream of mushroom soup, undiluted
1 C. milk
1/2 tsp. poultry seasoning
1/8 tsp. ground mustard
1 C. (4 ounces) shredded cheddar cheese
1 C. shredded mozzarella cheese
1 T. shredded parmesan cheese
minced fresh parsley
Cook spaghetti according to package directions. Drain and place in a greased 11-inch x 7-inch x 2-inch baking dish. Top with turkey; set aside.
In a skillet, sauté the mushrooms and onion in butter until tender. Whisk in the soup, milk, poultry seasoning and mustard until blended. Stir in the cheddar cheese; cook and stir over medium heat until cheese is melted. Pour over turkey.
Sprinkle with mozzarella and parmesan cheeses (dish will be full). Bake, uncovered, at 350° for 25 to 30 minutes or until heated through and cheese is melted. Sprinkle with parsley.
Looking for other turkey recipe ideas, try your hand at turkey noodle soup, turkey and corn chowder or turkey pot pie. Wanting pizza, use a prepared white sauce on a crust and top with cooked turkey, fresh vegetables, mozzarella and parmesan cheese for a different take on a family favorite.