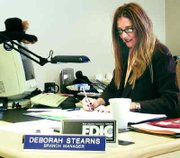 A hometown girl running a hometown bank.
Deborah Stearns is the newest face at the Sunnyside Bank of the West branch, having been named the new manager just over a month ago.
Stearns, 43, is no stranger to the Lower Valley, having grown up in Sunnyside. Stearns' father, Steven Crick, operated Pacific Coast Nursery in Sunnyside for 25 years.
Stearns lives in Prosser with her husband, Brett, and two daughters, Brittney and Kass.
The new Bank of the West manager brings with her quite an impressive resume.
In 1981, Stearns graduated from Yakima Business College with an Associate of Arts degree in business management. She obtained her accreditation as a registered para-planner from the College for Financial Planning in May 1993.
From 1984-1995, Stearns worked as the district sales manager/branch sales manager for U.S. Bank. Her duties included training 14 sales personnel at five different branches in the latest product promotions. Stearns has also worked selling American Family Life Assurance Company (AFLAC) insurance and as an inventory control manager for Gannon Nurseries Incorporated.
Stearns knows just about all facets of the banking industry, having started with U.S. Bank as a customer sales representative before working her way up the ranks.
"I have a huge respect for tellers," said Stearns.
One of the areas Stearns tries to promote in the banking industry is customer service. Making the customer feel appreciated is something Stearns has always tried to implement with her job.
A long-time friend, Nancy Boettcher, turned Stearns on to the job at Bank of the West.
"I had no idea about this job," said Stearns.
Stearns said through her friend, Bank of the West officials made contact with her for an interview and she was hired shortly thereafter.
What attracted Stearns to Bank of the West was its strong customer service criteria.
"If you come in and you need something, we are not going to give you an 800 number to call," said Stearns. "We try to take care of everything at the bank. We want our customers to know their bankers."
Stearns said it is the people that keep her interested in the banking industry. Stearns said she enjoys being able to educate people on what kind of services are available to them at a bank.
Stearns said one of her goals as the new Sunnyside branch manager is to get out into the community more. Stearns said it is helpful in promoting her business to know many of the people in the community. One of the traits she learned from her father was the importance of being involved with one's community.
Stearns said she is very excited about being at Bank of the West and looks forward to making the business prosper.
"I am just so excited to see so many familiar and friendly faces," said Stearns. "We have no where to go but up."