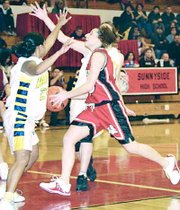 The Sunnyside High School Lady Grizzlies came on strong last night, winning their first two match-ups of the season.
The Lady Grizzlies went up against two teams during last night's jamboree, winning over both Wapato and Sunnyside Christian High School.
Sunnyside Coach Leo Gomez said the Lady Grizzlies looked good last night, playing well against both the Wolves and the Knights.
"As a team they played good defense," Gomez said, noting that defense is going to be a key part of the Grizzlies' game.
However, defense wasn't the only area where Sunnyside looked good. Gomez said Sunnyside's post players did a good job of rebounding and scoring for the Grizzlies.
In the first match-up of the night, defense helped the Sunnyside put away the Wolves, winning by a score of 40-21.
Gomez said the B squad, made up of the junior varsity team, played well against Wapato.
"The girls did really well in that game," Gomez said.
High scorer for the B squad was Bobi Haringa with 8 points, followed by Daniela Rivera with 3 points and Cassy Jolliff with 2 points.
When the A squad hit the court, made up of the varsity team, the Grizzlies shot ahead.
"They looked great," Gomez said. "They shot the ball really well."
He noted that his team hustled against Wapato.
Scoring for the Grizzlies were Andrea Phillips with 10 points, Victoria Sarmiento and Kerri Urrutia with 6 points apiece, Erica Mendez and Lanna Pangle with 2 points apiece, and Talia Spini with 1 point.
When it came to taking on the Lady Knights, the B squad got things started for the Grizzlies. At the end of the first half the score was 14-12 with Sunnyside leading.
Scoring for the B squad were Jolliff and Haringa with 4 points apiece, and Melissa Caballero, Victoria Garza and Capri Miles with 2 points each.
"They hustled and worked hard," Gomez said of the B squad.
When the A squad took the court, the scoring continued with the Lady Grizzlies winning over the Knights by a score of 35-17.
Gomez said it was Sunnyside's defense that helped them against the Knights. He noted that his team scored 21 points in the second half.
Scoring for the Lady Grizzlies were Mendez with 12 points, Sarmiento with 3 points, and Phillips, Urrutia and Spini with 2 points each.
The Lady Grizzlies will take to the court again Friday at Ephrata.