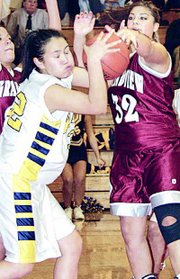 Last night, the Grandview High School Lady Greyhounds took their first steps onto the basketball court this season. The tentative steps ultimately led to two jamboree victories for the Lady 'Hounds.
The Grandview team, which took part in the jamboree at Sunnyside High School, finished the night with wins against both Wapato and Sunnyside Christian High School.
The first challenge of the night for the Lady 'Hounds was to take on the Wapato Wolves. Grandview Coach Adolfo Hinojosa said his team played well against Wapato, noting that when the A squad stepped in for the second half of the match-up they stepped up their defense.
"We came in, applied additional pressure and won by 12 points," Hinojosa said.
The Grandview girls beat Wapato by a score of 35-23.
Hinojosa said Grandview's full court press seemed to rattle the Wolves, which gave his team a chance to get some easy lay-ins.
Overall, Hinojosa said defense was the key to his team's win, noting that Grandview is still learning two new offensive strategies. He said on offense his girls had times when they looked good, but they still need to work on their new strategies. He noted that the new offensive strategies include a lot of movement, which he said should help lead the Lady 'Hounds to some easy hoops.
Scoring for Grandview against the Wolves were senior Jessica Rodriguez with 11 points, junior Tonyha Wysong with 4 points and senior Mari Cornejo with 3 points.
The second game of the evening was against Sunnyside Christian High School.
Hinojosa said Grandview's B squad got the Lady 'Hounds off to a slow start against the Knights.
Hinojosa said when the A squad got out there, they applied defensive pressure and scored 8 points in their first few minutes.
But the Lady 'Hounds let the hammer off, allowing the Knights to make a 14-point run.
Ultimately, the Grandview team was able to hold off the Lady Knights, winning by a score of 28-24.
Scoring for the Lady 'Hounds were Rodriguez with 7 points, Wysong with 6 points and Cornejo with 5 points.
Hinojosa said he thinks the key to Grandview's game this year is going to be their defense.
"Our defense is really going to keep us in games this year," he said. "We apply full court pressure...we don't let up."
The Lady 'Hounds will take to the court again Saturday at home against Wapato.