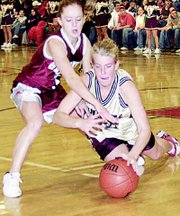 Considering the Class 'B' Sunnyside Christian Lady Knights faced both a 2A and 3A opponent last night, their season opening debut wasn't all that shabby.
Playing at the Sunnyside High School Girls Basketball Jamboree, the Lady Knights basketball team gave Grandview all it could handle before finally succumbing, 28-24. Against 3A Sunnyside, though, it was a different story, as the SCHS girls were routed, 35-17.
"Sunnyside has a very good team. They're very exciting to watch," said long-time SCHS Coach Al Smeenk. "I was a little disappointed with how we played against them."
But Smeenk was much happier with his Lady Knights' performance against Grandview. After watching his JV unit only get outscored by three, his varsity players came out and fought tooth-and-nail with the Greyhounds' 'A' squad. In the end, Grandview's varsity outscored its Sunnyside Christian counterparts by a slim 20-19 margin.
"We knew we could play with them," Smeenk said of the Grandview team.
The first of two turning points in the varsity match-up portion of the contest occurred in the early stages of the game. "We came out sluggish," Smeenk said.
The second deal breaker was when Grandview threw a press at the Lady Knights, which resulted in six quick points for the 'Hounds. Following a quick timeout to remedy the problem, Sunnyside Christian shrugged off Grandview's press and battled back to make a game of it.
The Van Wingerden sisters, senior Tyssyna and sophomore Tori, scored 7 and 6 points, respectively, for the Lady Knights in the narrow loss to Grandview. In the JV portion of the game, sophomore Brittney Den Hoed scored 3 of Sunnyside Christian's 5 points.
Grandview was paced to the 28-24 victory by Jessica Rodriguez, who tossed in a team high 7 points.
Each game of Monday evening's jamboree consisted of two, five-minute quarters played by JV players, with two, five-minute quarters played by the varsity squads.
In the match-up against the host Lady Grizzlies, Den Hoed and Jacqui Roberts kept the game close for Sunnyside Christian in the two JV quarters. Den Hoed scored a team high 6 points for the Lady Knights and Roberts added 4, as SCHS only trailed Sunnyside by a 14-12 margin. But once Sunnyside's varsity took the floor, it was clear the Lady Knights were over-matched.
"(Sunnyside) did a great job of setting screens," said Smeenk. "They also scored on a couple of back door cuts and on a couple of lobs. Sunnyside shot well from the outside, too.
"They're extremely quick and they have a very strong post player. Sunnyside is going to be tough to beat this year," Smeenk said in describing how the Lady Grizzlies outscored his varsity by a 21-5 margin.
Varsity-wise, the older Van Wingerden sister and junior Courtney Rice each plopped in 2 points in the losing cause. Erica Mendez led Sunnyside in scoring with 12 points.
Sunnyside Christian's first regulation game of the 2004-05 season will be this coming Friday at Liberty Christian. The Tri-Cities school placed sixth at the 'B' State girls basketball tournament last season. Smeenk said Liberty Christian returns several of its players off last year's team.