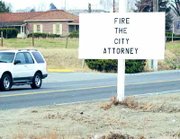 One Sunnyside landowner isn't happy with the City of Sunnyside and he is letting everyone know it.
People driving into the community along South First Street may have noticed a large white sign with big, black block letters that reads, "Fire the city attorney."
The sign was recently erected by local contractor Thomas Paul, who owns the property where the sign is located.
According to Paul, the story behind the sign goes back several months. He explained that at one point there was a billboard located where his sign now hangs. He said he rented the billboard to another company that then leased out the advertising space. Paul said he recently decided to take down that billboard, in order to replace it with a new one that he would then lease to advertisers himself.
Paul said at the time, he talked to officials in the Sunnyside building division and didn't feel that they had any issues with his plan.
Paul said from the very beginning he tried to keep the city's planned improvements to South First Street in mind. He figured they were going to widen the street and had been told somewhere along the way that the city would know just how much of a right-of-way they were going to need for the project by Nov. 1.
In October, Paul said he put in his application to the Board of Adjustment for a conditional use permit. He said he figured the Board of Adjustment would see his request in October, then he'd just have to wait until the beginning of November, when the right-of-ways were decided, to begin construction of his new billboard.
However, the October meeting was canceled due to a lack of agenda items, and Paul's request was placed on the November agenda.
Paul said when the Board of Adjustment finally saw his request, it came with a staff recommendation to deny his conditional use permit until the borders of South First Street were decided.
"It irritated me, because it's my property," Paul said.
He explained that he needed to apply for a conditional use permit because he planned to use the billboard for off-premise advertising. He noted that if he wanted to use the billboard to advertise his own business, he would simply have to go down to the Building Division and fill out a building permit.
When the Board of Adjustment met on Nov. 17, it approved Paul's conditional use permit. However, less than a week later City Attorney Mark Kunkler sent out a request and motion to reconsider the permit. The request asks the Board of Adjustment to take another look at Paul's request during a special meeting to be held tomorrow night (Wednesday) at 7 p.m.
Paul said in his mind when the permit was approved, the issue was over.
Paul said he is losing money on the billboard every day that it isn't built, noting that he is losing advertisers and therefore income.
Which is what led him to put up his latest sign.
"If he (Kunkler) wants to mess with my monthly income, then I'll mess with his monthly income," Paul said.
Jim Bridges, Sunnyside building inspector, said he had been out to measure the sign on South First Street and noted that it is "not effecting public safety."
At this point, the city has no plans to deal with the sign.