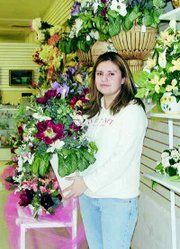 Although Maria Alanis has been using her creativity to put together silk flower arrangements for some time, it was just this past Saturday that she opened the doors to her first floral shop.
Alanis has opened Gracie's Floral Shop at 426 S. Sixth St. in Sunnyside. The flower shop is named for her daughter, Gracie.
Gracie said her mother has been creating silk arrangements for years, noting that she started putting flowers together for her own use. Gracie said her mother would design arrangements for her own home, and slowly by word of mouth she found herself creating arrangements for friends, weddings and quinceaneras.
"She likes doing this," Gracie said of her mother.
Opening the shop on Sixth Street is Alanis' first attempt at offering her services to the public. Gracie said her mother uses special silk flowers for her arrangements, ordering them in because she can't find the flowers locally. She noted that her mother doesn't just work with flowers, explaining that she also likes to put together arrangements using fake fruit.
As for the types of arrangements she puts together, Gracie said her mother does everything from centerpieces to floral swags to bouquets for weddings.
Gracie said one of the services her mother offers at the shop allows brides and those getting ready to celebrate their quinceaneras a chance to look at some arrangements before purchasing them. She said her mother works to put together samples for people, giving them a chance to see what their arrangements could look like, as well as chance to choose exactly what they want in an arrangement.
Besides offering a variety of flower arrangements, Gracie said her mother also sells frames and other items that complement her flowers.
Gracie's Floral Shop is open every day at 11 a.m. Gracie said those interested in ordering flower arrangements can call her mother at 830-1470 or 839-6316 to set up an appointment.