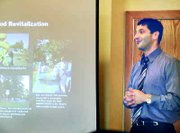 The University of Washington wants to help Lower Valley towns revitalize their communities.
Ricardo Valdez, associate director for the University of Washington's Yakima Valley Community Partnership program, gave a presentation to Noon Rotarians on what has already been taking place in Toppenish.
Valdez said efforts have been made to intertwine what UW students are doing at school with the needs of the Toppenish community.
Valdez's program identified three target areas in Toppenish to address. One of the areas dealt with small business assistance. Valdez said his program was looking at mainly targeting Hispanic small business owners. There was also a neighborhood revitalization component and a partnership with the Yakama Indian Nation for computer skills training.
For the neighborhood revitalization portion of the project, Valdez's group surveyed people in a nine-block area in East Toppenish.
"This was a real exciting project for us," said Valdez.
Through the UW efforts in East Toppenish, which is a section of town that struggles with such things as drug dealers and graffiti, the Eastside Neighborhood Association was formed. Partners in this new association include the Toppenish School District and the Toppenish Rotary Club.
The number one area identified by citizens through the survey was the need to revitalize Lincoln Park.
There was a big push to involve the community as much as possible in the enhancement of Lincoln Park, said Valdez. There were numerous gatherings, including a fiesta in the park on May 8, to receive public input.
"The community of Toppenish really came together," said Valdez.
Valdez said the community responded with many donations for improvements to Lincoln Park, including a penny drive conducted by students at Lincoln Elementary School.
With the help of students in the UW architecture department, new playground equipment was installed for the community to enjoy, said Valdez.
"The city is excited about what we have done there," said Valdez.
In the area of small business assistance, with the help of Grandview businessman Gary Christensen, Valdez was able to organize small business seminars in both English and Spanish in Toppenish. Valdez was able to partner with the UW business economic development program, Toppenish Chamber of Commerce, Central Valley Bank and Flint Publishing to put on the events.
"We have had different types of topics which have been really interesting," said Valdez.
Valdez was able to secure the services of noted UW accounting department chair Dr. Kasi Ramanathan, who travels around the country to speak.
Right now, Valdez is talking with City of Grandview officials about bringing similar programs to this area. Valdez said he also would like to see Grandview and Sunnyside city officials partner with his program to provide additional opportunities for Lower Valley residents.