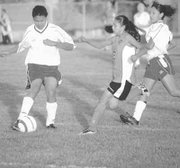 GRANDVIEW - One and a half minutes into the first five minute overtime period Grandview's Akane Tomizawa scored the first and only goal in the rival match between the Greyhounds and the Sunnyside Grizzlies, giving the Grandview team its first victory of the season.
Sunnyside soccer Coach Kathy Jolliff said that usually in rival games the teams pick-up their game in attempts to beat their rivals. The Grizzlies beat the Grandview girls in two shootouts last season.
"It was a great game," said Jolliff. "The play was up and down the field. We had several opportunities to score and we just couldn't finish a play."
Grandview Coach Anne Holden said her girls were sluggish the first half of the game, but in the second half they picked up their game.
"They looked good," she said.
Holden said that the game was a bit frustrating to the girls since they had so many possessions of the ball, but were not able to score.
With Sunnyside varsity players still on the mend, Jolliff said her girls were making adjustments throughout Thursday's game.
"It seems like every game there is one more injury," said Jolliff, who added that several of her junior varsity players played in the varsity game.
"The girls were playing tough," said Jolliff. "It was a very equal match."
Holden said the Grandview team relied on experienced players, including Danica Rodriguez, Kayla Carpenter and the Tomizawa sisters to keep up with the Lady Grizzlies. She added that she thought Anna George had some telling shots in the goal.
The game against Grandview was the first overtime play Sunnyside has had this season.
Grandview's keeper, Jessica Rodriguez, had nine saves in the game and Sunnyside keeper Victoria Solis had 13 saves in the goal.