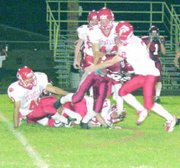 GRANDVIEW - Ouch! The Othello Huskies pinned a whopping defeat on the Greyhound football team during Grandview Homecoming this past Friday.
The Huskies (2-1, 3-2) rolled into Grandview and escaped town with a 49-14 victory.
"Othello is very young this year," said Grandview's first year coach, Dustin Lamb. "What's surprising is how tough they are."
The Huskies are also very balanced on offense. Othello rushed for 217 yards against the 'Hounds and picked up another 205 yards through the air. The end result was a pounding of the 'Hounds.
One of the few bright spots Lamb could garner from Friday's Central Washington Athletic Conference game was the play of senior Silas Hansen. The talented running back rushed for a team high 135 yards on 22 carries. Hansen also scored both of Grandview's touchdowns.
Part of the reason for Hansen's success on the ground was the realignment of Grandview's offensive line. J.R. Camacho and Blake Carpenter were moved to the left side of the line, and the duo opened some gaping holes for Hansen to rush through.
"Camacho and Carpenter's play kind of kick-started us," said Lamb.
Grandview's undoing was turnovers. On the Greyhounds' first four possessions of the game, they coughed up the ball four times.
"You can't commit those kinds of mistakes against a team as good as Othello," said Lamb, "Not if you expect to win."
Offensively for Grandview, Brandon Artz threw for 112 yards on 13-of-27 passing numbers. Hansen had five receptions for 25 yards, James Vela hauled in four of the passes for 47 yards and Kevin Concienne tallied 29 yards on three catches.
On the defensive side of the ball for Grandview, Camacho was in on 11 tackles, five of them solo stops. Concienne, Artz and Vela each had three solo tackles, with Concienne and Chris Mejia each recording five defensive assists.
The Greyhounds (1-2, 1-4) are scheduled to travel to Naches (1-1, 4-1) this coming Friday night.