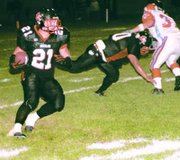 Watching a fallen teammate being carted away to the hospital seemed to take the life out of the Sunnyside Grizzlies last Friday night.
In what had been a well played first half, the Grizzlies unraveled after intermission, allowing visiting West Valley to make off with a 30-8 Mid-Valley League victory. The loss dropped Sunnyside to 0-2 in the conference standings, while the Rams improved to 2-0.
The Grizzlies were very much in the game, playing tit-for-tat with West Valley in the opening half. By the time intermission rolled around, the Rams were only able to claim a 9-0 advantage. But on the second play of the second half, the Grizzlies and everyone else at Clem Senn Field nervously held their breaths as it quickly became clear that a downed Sunnyside player had sustained much more than just a bruise. Medical technicians rushed in to help the defensive safety, identified by onlookers as Noe Zamarron. After a nearly 40-minute suspension of the game, Zamarron was transported from the field by ambulance to the hospital.
"It was kind of a turning point for us," said Sunnyside Coach Mark Marro. "It was a very emotional thing for the players."
Perhaps thinking more about the fate of their downed teammate than the outcome of the game, the Grizzlies seemed to lose their focus. West Valley responded quickly, punching in two third quarter touchdowns to build an insurmountable 23-0 lead.
Sunnyside cut the Rams' lead to 23-8 in the final period when Grizzly QB Tony Cantu hit wideout Pete Marquez on a five-yard hitch route. Marquez broke free of the defenders and scooted another seven yards to paydirt. Greg Gilleland, who led all rushers in the game with 67 yards on 15 carries, added a two-point conversion run.
Any hope for a comeback victory went by the wayside, though, when Brandon Sears broke off a 24-yard TD run for West Valley. Sears also caught a 20-yard touchdown pass from Rams' QB Phillip Jennings in the third quarter. Sears, one of seven runners West Valley deployed against the Grizzlies, led the Rams with 57 rushing yards, coming on just five totes.
West Valley gained a total of 188 yards on the ground. But to Sunnyside's credit, the Grizzlies forced the Rams to run inside, which meant that West Valley's backs were taking plenty of pops from Sunnyside's defensive unit. The hard hits resulted in West Valley coughing up the ball three times, and in all three instances the Grizzlies recovered the loose pigskin.
"Their backs weren't able to run outside on us like they have in recent years," Marro said.
Unfortunately for Sunnyside, Jennings complemented the Rams' hard fought rushing yardage by throwing for just over 200 yards. Again, it was Sears who stood out for West Valley. He nabbed four of Jennings' passes, picking up 116 yards on the receptions.
Despite sustaining the loss Friday night, the Grizzlies played much more cohesively than they did two Fridays ago in a 35-0 defeat suffered at the hands of Prosser.
"Against West Valley, I thought we played pretty well," said Marro. "I thought we played with a lot of intensity. We're starting to come together as a team. We're playing tough."
Describing his players as tough might be an understatement. Especially considering that Zamarron, the safety who sustained the violent collision last Friday, is hoping to recover from his head injury in time to play at Hanford this coming Friday. This morning (Monday), Zamarron's father said the results from the cat scan hospital officials administered to his son last Friday night proved to be negative.
"But, they told us no contact for a week," said the senior Zamarron, "But, Noe is hoping to be ready to go this coming Friday.
"We really appreciate all of the people who told us they put Noe in their prayers. The support and concern everyone has shown, it's very much appreciated," he added.
As lethargic as the Grizzlies played in the third quarter after Zamarron was carted away, Sunnyside somewhat returned to form in the final period. The Grizzlies began moving the ball on the Rams, with the best drive of the game culminating in the TD toss from Cantu to Marquez
Cantu finished the contest with 6-of-17 passing numbers. He was picked twice enroute to throwing for 72 yards. Chris Guevara was his favorite target, hauling in three of the passes for 31 yards.
"Tony was under heavy pressure all night," said Marro. "Considering the pressure he was under, he made some good reads. He's in a good leadership role for us."
Rushing-wise, the Grizzlies gained 105 yards on the ground. Gilleland picked up 67 of those yards, with Joe Schwartz adding a 30-yard rushing performance on six carries. Cantu was credited with four carries for eight yards.
In looking ahead to this coming Friday's game at Hanford (0-2, 1-4), Marro said in terms of the playoffs, the contest is pretty much a must-win affair for his Grizzlies (0-2, 2-3).
"Us and Hanford have similar teams," he said. "Both of us run the ball a lot.
"We've started out tough in league, drawing Prosser and West Valley, and so has Hanford. They've also faced Prosser and West Valley in their league openers.
"It will be a pretty big game for us," Marro added.