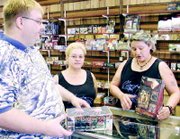 When she made her decision to transform her giant collection of McDonald's Happy Meals toys into a business, Diane Marsch had no idea she would one day be hosting weekly trading card tournaments.
These days, hundreds of card fans of all ages seek out her Toy Dreams card and game shop to compete in all types of tournaments.
This past week, the enterprising Sunnyside businesswoman made her seventh relocation move in the past six years.
"We just keep getting bigger. We need more space to meet the needs of our customers," she said.
But in addition to needing more room for the Lower Valley trading card tournament enthusiasts, Marsch is also allowing for more space for other types of recreation in her downtown business.
"We cater to kids, who are loyally here every day after school.
"In the summer, the kids are waiting for me to open most days," she added.
Marsch, a long-time Sunnyside resident, and her partner, Alice Cortez, recently moved from the old Lindstrand Jewelry storefront on East Edison Avenue into the former Egley's Western Wear storefront, near the corner of Decatur Avenue and South Sixth Street.
"We just needed more space," Marsch said.
The struggle to find more space has been a constant in the development of Marsch's Toy Dreams shop. From the first, when she opened her collectible business in the back of a hair salon in Grandview to her later move to Sunnyside, Marsch and Cortez have found themselves constantly adjusting and adapting their business plan to meet the needs of their customers.
"We moved to Sunnyside about the time the Pokeman craze hit. We got on board with the trading cards, which proved very popular with the kids," Marsch said.
Since moving to Sunnyside, she has relocated five times, each time into a more spacious storefront.
Each move meant more merchandise and more customers dropping by to check out the latest shipment of trading cards. These days she is making the move to make the latest popular craze, X-box game tournaments, available to local gamesters.
"In addition to the X-box tournaments, I plan to keep enough room available for my many other tournament players," she said.
Now, in addition to her game nights, Marsch is also looking at adding a few arcade games to the Toy Dreams establishment.
"We now have room for a pool table as well," she grinned.
"It's been a delight to see how well we've been supported in this town," she said.
"Parents know their kids are safe at Toy Dreams," she added.
But Marsch does have a few rules along with all the playing around.
"Homework comes first," she said. "Kids who haven't done their homework can't play cards or hang out here until it's done," she said.
"I guess I'm just doing my part to provide for the education and recreation of Sunnyside kids," she smiled.