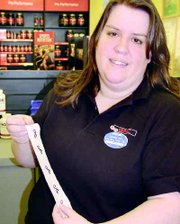 In 2004, Washington state will record 4,040 new cases of breast cancer and more than 750 female breast cancer deaths, according to the American Cancer Society.
General Nutrition Center, Inc., with a branch store in Sunnyside, will help generate public awareness of the disease throughout National Breast Cancer Awareness Month in October.
As a part of the company's effort to fight breast cancer, Sunnyside General Nutrition Center Manager Pam Baker and her staff will be encouraging their customers to wear pink as a way to generate public awareness of the disease.
In order to generate public awareness of the second leading cause of cancer-related deaths among women, Baker said the Sunnyside store will be distributing women's health and prevention guides during October. In addition, the store, located in the Mid Valley Mall, will encourage community members to wear pink ribbons on Oct. 15- National Mammogram Day, which will be good for in-store discounts, Baker said.
Breast cancer is one of the more common types of cancer found in women. If found early, chances of survival are greatest, said General Nutrition Center Senior Vice President Margaret Peet. She said educating women and those who love them to become knowledgeable about the disease is one of the best defenses women have.
In addition to National Mammogram Day, the GNC stores will encourage denim day participation in its stores around the country, which will encourage all GNC employees to help in the fight against breast cancer, said Baker.
She said participating employees will donate $5 to the Susan G. Koman Breast Cancer Foundation on Oct. 15. She said the GNC company is striving to be a source of education and resources for women in the Lower Valley.
"It's a disease which touches all of us," she said.