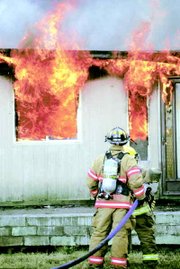 The Yakima County Fire Marshall's office is investigating the cause of a structure fire that completely destroyed a home at 800 Bishop Road, just south of Sunnyside, and its contents, Tuesday afternoon.
Ed Villarreal, a foreman for a local rancher, said he was driving westbound on Bishop Road to check on irrigation when he saw smoke coming from one of the corner windows of the house. He called 9-1-1.
Albert and Norma Cortez, brother and sister-in-law to the owner of the home, Carmen Wilson, live behind the razed home.
They had just arrived home from a night of hauling grapes when the fire broke out.
Norma Cortez said that when they pulled into the driveway and passed Wilson's house they didn't notice any smoke. About 15 minutes later she heard a call pull into the driveway, and thought it was Wilson.
Cortez said she checked to see who was arriving, when she saw the smoke.
"I said, Albert, your sister's house in on fire," said Cortez.
Albert Cortez ran over to the back door of the house and tried to open the door, but the screen door was locked.
"The house started popping," he said.
His wife ran to the neighbor's house to call 9-1-1 and to try to reach Wilson, who as it turned out was not at home when the fire started.
"I ran over there and started knocking and knocking, but nobody answered," said Mrs. Cortez. She finally was able to rouse a neighbor and call for help.
A neighbor, Gilbert Mohr, said he was working on his carport when he smelled smoke and wandered down the road to see what was happening.
The house was fully charged with smoke when the county firefighters arrived, according to Pat Mason with Yakima County Fire District #5. Fire was showing on one end of the house and shooting through the roof. Within minutes of the firefighter's arrival the entire house was involved. Firefighters were able to eventually control the blaze before they completed their detailed inspection of the structure. The house and its contents are considered a total loss. Mason estimates the loss to equal about $50,000.
The Red Cross was called to assist Wilson and her two sons.