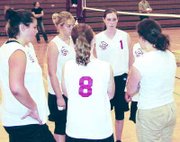 Tuesday night was not a good night of volleyball for the Bickleton High School girls volleyball team. The team just couldn't get their act together in order to stop the Sunnyside Christian High School volleyball squad.
The Lady Knights, who played every member, kept the Lady Pirates to single digit scores until the final set of the three-game match. Sunnyside Christian won 25-9, 25-4, 25-10.
While SCHS Coach Andrea Dobson said her team is riding on the momentum of their recent victories, Bickleton Coach Erin Palmer can only hope her team will shake off Tuesday night's loss.
"Hopefully, we will do better next week," Palmer said.
Dobson said it was her team's serving game that dominated the evening, which was led by ace server Chelsey Jones, who racked up 30 aces. She left a few aces for Courtney Rice, who added eight, and for Heather Van Wingerden, who contributed three aces. Jones was also on fire at the net, nailing 12 kills and going for eight digs.
Heather Van Wingerden was also in the dig mode with 10, as was Jessica Schrotenboer, who dove for another 10. Rayann Van Beek added four digs and two service aces for the night.
Despite their rocky evening, the Lady Pirates had a few bright moments, volleying the ball a number of times and forcing the Lady Knights to earn their points.
Bickleton's Kirstin Slater led her team in aces with three, while eighth grader Danielle Raschko surprised SCHS with an ace. Ilsa Chapple was the one bright spot for kills with two.
Both teams will now take a few days off. Bickleton will have a break until Oct. 12, when the team will face Glenwood at Bickleton. Sunnyside Christian (3-4, 3-6) will also rest up until Oct. 12 for a home game against Mabton.