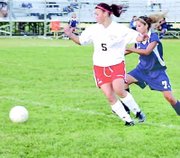 The Lady Grizzlies defeated the Wapato Wolves 3-2 Thursday night, earning a spot in the District playoffs this year.
"The top five teams in the league will go to the playoffs and we beat Wapato and Ellensburg twice," said Sunnyside Soccer Coach Kathy Jolliff.
The Sunnyside players will finish out the season in league play with only one away game.
Eighteen minutes into the game yesterday, Sunnyside's Araceli Morales made the first goal of the game. The goal was unassisted, according to Jolliff.
"Someone else kicked the ball and it deflected off a defender and she was able to get the ball and put it in," said Jolliff.
After halftime, in the 48th minute, Sunnyside's Cassie Jolliff scored an unassisted goal.
According to Coach Jolliff, she was able to get the ball at about 35 yards out, drove it past defenders and put it in.
The Wapato team scored back to back goals in the 52nd and 65th minutes of the game.
In the first goal, Jolliff said the Sunnyside team had a situation where they thought the ball was going out of bounds. The Sunnyside girls stopped chasing the ball and a Wapato player picked it up, said Jolliff.
"She was so far ahead we couldn't catch her," she added.
The second goal by Wapato occurred when Sunnyside stepped up and thought they were going to catch the Wapato team off-sides, which she added, the referees never called.
In the last few minutes of the game, Alejandra Benitez was driving toward the goal and had the ball in the penalty box. When the Wapato goalie came out to collect the ball the two girls collided, leaving the ball free, said Jolliff.
"Yanet Candido ran and put it in the back of the net," said Jolliff of the game winner.
Both the Sunnyside and Wapato keepers had three saves for the game.
"We had more shots, but they weren't in what would be the keeper area," said Jolliff.
Jolliff said that both Mayra Serna and Cassie Jolliff had a good game. Both were injured early in the season and are now showing they are coming back strong.
"Cassie had a lot of play in the midfield," said Jolliff.
The Lady Grizzlies soccer team (4-4, 5-6) will be playing Selah at home next Tuesday. The JV game begins at 4 p.m. with varsity following at 6 p.m.