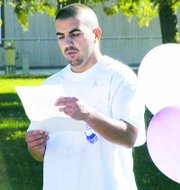 GRANDVIEW - A small group of walkers gathered at Grandview's Dykstra Park early Saturday morning for a stroll around the park - not for the exercise, but to remember the absent members of their families.
Called a "Walk to Remember," the walk was held to memorialize babies who never had an opportunity to run, along side their parents in the Yakima Valley sunshine.
"We're here to remember our babies who were with us for just a short time," said Robin Garcia, organizer of the second annual Walk to Remember.
The walk, which was held as a gentle memorial, gave parents and grandparents a place to mark the passage of the infants lost in miscarriage, illness or still births.
"Some of our babies we never even got to hold, others we held for only a few minutes," said Garcia. "But we will always remember their presence," she said.
Garcia, who with her husband Josue now have two healthy children, lost three infants to various causes.
"I organized the walk because I needed a place where I could talk about the babies and where people would understand my grief," she said.
Garcia is hoping to form a support group for parents who have lost infants. "It just means so much to know that someone cares," she said.
Garcia recently learned that financial support for a parents grief group is available at Sunnyside Community Hospital. The hospital recently received a grant to fund an infant education program, according to Sandy Linde of the hospital.
"We hope to use a part of the funds to organize bereavement groups to help parents, like the Garcias and those who gathered for the Walk to Remember," Linde explained.