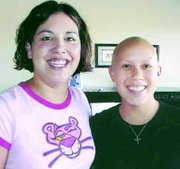 The outpouring of community support for Katie Gonzalez, who is battling cancer, has made the 23-year-old realize why Sunnyside is her home.
Like a lot of young people, Gonzalez, who now lives in Santa Monica, Calif., near Los Angeles, was in a big hurry to see the last of her hometown following high school graduation. Since her recent bout with cancer, Gonzalez has developed a new appreciation of small town living.
"I'm overwhelmed," said Gonzalez. "I can't believe the outpouring of support from people who don't even know me," said Gonzalez.
When her community heard she was suffering from Primary Progressive Hodgkin's Disease, friends of her family and complete strangers rallied to offer both financial aid and emotional support.
The community's reaction surprised the former Sunnysider, who recently returned to Sunnyside for a short visit. Gonzalez is now back in California awaiting surgery in preparation for dual stem cell transplant of her own cells, which doctors believe will aid the young woman on her road to recovery.
Today (Monday), Gonzalez is preparing to undergo the first of her tandem stem cell transplants.
"I already started chemotherapy and would have had the transplant last week, but doctors said my blood count was too low," she explained.
So Gonzalez elected to return to Sunnyside to thank those people who have been so supportive of her and her parents.
"It was surprising," she said of the unexpected financial support. "But very welcome," she added.
"We weren't asking for the money, but we are very grateful for all of the cards and words of encouragement," Gonzalez added.
Gonzalez, who works as a real estate agent in Malibu and as a personal assistant for a California rock band, hasn't been able to work since April, when she was first diagnosed with the disease that attacks the lymphatic system.
The 1999 Sunnyside High School graduate said she is doing well and hoping to stay on her treatment schedule for the next step of her recovery.
"We take it one day at a time, but it is really nice to know that there are so many people pulling for me," she added.
In September, childhood friends and their parents organized a bake sale, under the direction of family friend, Janet Smith, and set up an emergency medical fund for Gonzalez.
A special bank account was also set up for Gonzalez at Yakima Federal Savings in Sunnyside.
"I'm normally a very talkative person," Gonzalez said. "But I'm having a hard time finding the words to let the community know how much I appreciate its support," she said.
"I wish I could thank every single person who helped with the bake sale or who purchased something there," she said.
Gonzalez, who will be in isolation for the duration of her six-week transplant procedure and recovery period, hopes to keep in touch with friends and family via the Internet. Her parents, Fred and Mary Alice Gonzalez, are expecting to be staying with her through December.
"This experience has given all of us a whole new sense of appreciation for our friends and family," said Mrs. Gonzalez, who is on temporary leave as a teacher at Sunnyside's Pioneer Elementary School.
"The support has been incredible," Mrs. Gonzalez said.
"Hopefully, when this is over we'll be in a position to give back to the community," she said.
"It's just so nice to know that there are people out there to help ease the load," she added.