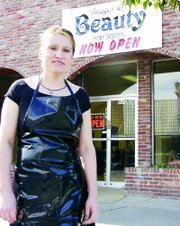 When Blanca Rios, the owner of Images of Beauty salon on South Sixth Street in Sunnyside, was a child she remembers playing with her sister's hair, trying to give her new hairstyles.
"I like to do hair and to make new looks," Rios said.
Rios just recently opened her salon, which offers a wide range of services, from hair cuts and colors to perms, waxing, manicures and pedicures. She added that in the future she would like to add facials and tanning to the list of services her salon is able to offer.
Rios, who graduated from Professional Beauty School in December 2003 and then attended Sunnyside Beauty Academy for instructor training, said she has always wanted to have her own salon.
"I enjoy the new looks and making people look different," Rios said.
Images of Beauty currently features two stylists, Rios and Linda Gonzalez. Rios said she and Gonzalez had been planning to work together since they met at beauty school.
Despite having always wanted to open her own salon, it took some time for Rios to be able to make her dream a reality.
Rios, who is originally from Coalcomm, Michoacan, Mexico, moved to the United States nearly 17 years ago. She said she first moved to Medesto, Calif. and spent two years living in Arkansas before moving to Sunnyside.
Rios said when her family moved to Sunnyside they started working in the fields, until one day her husband, Ben, looked at her and told her that it was time for her to go back to school and get her cosmetology license.
Despite having opened her own salon, Rios, who has two young sons, is not ready to stop there. Instead, she said she hopes to be able to expand her salon and one day be a cosmetology instructor with her own beauty school.
"This place is big and would be good for a beauty school," Rios said while looking around at the space her salon occupies.
Although there are already two beauty schools in Sunnyside, Rios said she wants to do something a little different and offer classes in Spanish.
But until then, Rios is happy with her new business venture. Images of Beauty is open Monday through Saturday from 9 a.m. to 7 p.m. and Sunday from 9 a.m. to 3 p.m. Walk-ins are welcome, but appointments can be made. For more information, Images of Beauty can be reached at 837-6538.
. Elena Olmstead can be contacted at (509) 837-4500, or e-mail her at eolmstead@eaglenewspapers.com
Elena Olmstead/Daily Sun News
Blanca Rios is the owner of Images of Beauty, a new salon at 525 S. Sixth St. in Sunnyside. The new salon opened its doors Sept. 30.