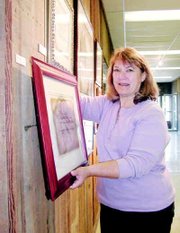 The rigidity of pen and ink drawings and the fluidity of watercolor come together under the tutelage of Prosser artist Sharon Bogen.
Bogen will celebrate an open house for her newest exhibit Thursday night, from 5:30 to 8 p.m. at the Mini Mall, 214 S. Sixth St. in Sunnyside.
Bogen has 41 new pieces on display at the mall, all pieces she has completed in the last year.
"It surprised me," Bogen said of the amount of work she has been able to accomplish in the past 12 months.
Something that makes Bogen's artwork unique is the blend of mediums she uses. Bogen admits that pen and ink and watercolors don't often go together. However, she enjoys the contrast the two mediums create when used in combination.
Bogen's work has evolved over the past year, which was when she held her last show at the Mini Mall. She noted that her artwork contains more layers. Bogen pointed to one of her calligraphy pieces and explained that there were four layers of watercolors, applied and rinsed from the paper, before she ever added the calligraphy work.
The artwork on display at the Mini Mall includes paintings and calligraphy pieces, as well as several pieces that represent Bogen's grandchildren.
Bogen has included eight pieces her grandchildren have done over the past year to the exhibit, pieces that Bogen added quotes and scripture to with her calligraphy talents.