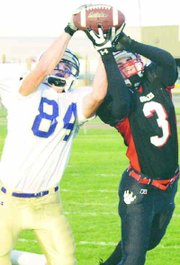 Simply put, it was a rough night for the Sunnyside High School junior varsity football team Monday evening.
The Grizzlies hosted Hanford's junior varsity squad and the Falcons snatched a commanding 40-14 victory.
Sunnyside quarterback Jaime Sambrano was roughed up a bit by the Falcons' defense. Sambrano completed 8-of-20 passes for 99 yards but served up three interceptions. Sambrano also had six carries for 17 yards. Sambrano did rush for a touchdown.
Grizzly running back Brad Peters had a decent game on the ground, tallying 95 yards on 18 carries. Peters also had one reception for 10 yards.
Brandon Coleman had the Grizzlies' other touchdown. He also had four catches for 51 yards. Tyler Dolan had two catches for 18 yards for the Grizzlies.
Trevor Fernandez kicked both of Sunnyside's extra points.
The Grizzly JV will hit the road for its next game on Monday, Oct. 18, at Wapato.