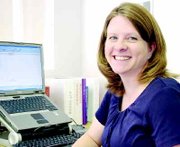 During her principal internship last year, Lori Froese determined that her calling maybe wasn't heading a school, but rather crunching the numbers and looking for patterns in student test scores to see where there are gaps in the curriculum.
"During my internship I found that I really enjoy working with the numbers and data, and Stan Davis, my mentor, gave me the freedom to do so," said Froese, who is the new assessment coordinator for the Sunnyside School District.
At the end of the school year she made a proposal to Superintendent Dr. Rick Cole, who approved creating the new position. Froese competed against several others during the hiring process, but in the end was hired.
For eight years Froese was employed as a teacher in the Sunnyside School District. Four of the years she taught sixth grade and the other four she had a fourth grade classroom, so she knows about the testing processes the students undergo every year.
She has had classrooms of students take the Washington Assessment of Student Learning (WASL) test, as well as a plethora of other tests used to assess students.
Her familiarity with the tests and testing process has helped her as she looks at test results from the WASL, MAP (Measures of Academic Progress), Iowa Test of Basic Skills and other tests used to measure students' progress.
Froese explained that the district decided that now that it has all the information, it hired her to find a way to use it and make it user friendly.
"I do a lot of graphing so administrators have a visual and it makes more sense," said Froese.
Part of what she does is a correlation study between MAP testing results and WASL results.
"We hope to predict individuals who have a chance of passing WASL but maybe need a little extra help," said Froese.
By comparing the two tests, she hopes they will be able to see gaps in the curriculum that will help students in the testing processes.
Froese explained that both the WASL and the MAP tests cover broad areas and have several strands to them. She said that by comparing strands and finding trends they can find weaknesses and fill it with supplemental material.
To start off, Froese is looking at the test scores as a whole and the trends. In the future she hopes to be as individualized as being able to find individual students consistently scoring low and finding them the extra help they need to pass the tests.
Although right now Froese is working primarily with school district principals, she hopes to work more with parents and students in the future.
"I hope to work more with them so they have a better understanding of why we're taking all these tests," said Froese.
Her job description has her working with students from kindergarten through 12th grade, but Froese said most of the assessments occur between third and 10th grades.
Froese misses working with students, but she said she is enjoying her new position.
Currently, she is mapping the school district's Grade Level Expectation's (GLE), which are tasks students should be able to complete at each grade level. She explained that the GLE's are used to focus instruction.
She hopes this will be the first step to refining the curriculum, meeting the needs and doing away with gaps and deficits in the learning materials used by the school district.