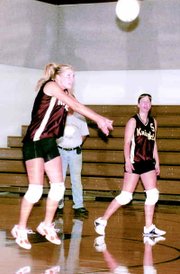 The Mabton High School Lady Vikings walked out of Sunnyside with another win under their belts, following Tuesday night's match against Sunnyside Christian High School.
The Mabton volleyball team won the three-game match by scores of 25-15, 25-17, 25-20.
"They looked very good," Mabton Coach Olivia Mendoza said of her team.
She noted that Mabton did great offensively, but added that it was the team's defense that really helped push the team toward victory.
Mendoza said the Lady Vikings also had a good night at the service line.
"Our serving helped us out a lot," Mendoza said.
Sunnyside Christian High School Coach Andrea Dobson also noticed Mabton's serves.
"Mabton outplayed us, they served well," Dobson said.
Mendoza said one big change she noticed among her players last night was their communication on the court.
"They were talking all the way through," Mendoza said.
Dobson noted that communication was something the Sunnyside Christian team struggled with against Mabton.
"We were out of synch," Dobson said. "We didn't have any matches for a week and it showed."
Helping the Lady Knights go up against Mabton were Chelsey Jones, who had 10 kills, 4 blocks, 2 aces and 6 digs for the night; Rayann Van Beek with 4 aces, 4 digs and 2 blocks; and Heather VanWingerden with 14 blocks and 10 digs. Courtney Rice had 4 aces, 6 digs and 2 kills against Mabton; Jessica Schrontenboer had 5 aces, 8 digs and 3 kills; and Tory VanWingerden tallied 18 assists.
Playing hard for Mabton were Jessica Prieto with 6 kills, 3 aces and 4 digs; Alida Mendoza with 8 kills, 1 ace and 2 blocks; Michelle Tellez with 7 kills, 1 ace and 1 block; Rosa Reyna with 4 kills and 3 aces; and Mayra Diaz with 5 aces.
The Mabton Lady Vikings (7-3) will take to the court next Monday at home against Lyle. The Sunnyside Christian team (3-5) will play this Thursday at LaSalle.