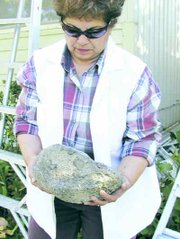 This past Monday morning a loud crash startled long-time Sunnyside resident Della Vasquez, leading her to the discovery of a mysterious rock resting on the roof of her South Hill Road home. Vasquez, who had never seen the rock on her roof before, thought it may have caused the large noise.
"At first she thought a car had crashed into her house, the noise was so loud," said Vasquez's daughter, Yollie Hernandez.
But the rock was the only thing which seemed to be out of place when she investigated the cause of the crash.
"We don't know how it got up there," said Hernandez. "It is too heavy to have been thrown up there to cause the noise," she said.
"At first we thought it might be a piece of fallout from Mount. St. Helen's, but that seemed improbable," she said.
The rock, which weighs about 20 pounds, isn't a part of a meteorite either, according to Wayne Cone, a Sunnyside High School science teacher.
It's a pretty interesting rock, but it's not from outer space, he said.
Cone, who along with fellow science teacher David Beals examined the rock Tuesday afternoon, said it also is not volcanic in nature.
Cone said the rock is not basalt, as is normally found in the Yakima Valley. "It likely dates to the ancient Missoula flood, which formed much of the Yakima Valley," he theorized.
The rock appears to be formed of grandiorite, which accounts for its crystallized specks, Cone said. Now covered with slow growing lichens, the slightly elongated rock may have been a part of a rock wall at some point.
"There appears to be some type of sealant near the flat side of the rock," he noted.
But just how it came to be on Mrs. Vasquez's roof is still a mystery.
"Someone may have placed it on the roof to hold something down," Cone suggested.
But Mrs. Hernandez said no work has been done on her mother's roof in over a year.
"Still, it is a pretty cool rock," Cone said.
"But we still don't know what caused that loud noise my mother heard," Hernandez said.