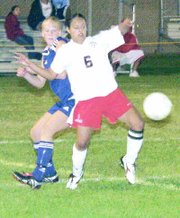 The Sunnyside High School girls soccer team lost 5-1 to the Selah Vikings Tuesday afternoon at home .
According to Sunnyside Coach Kathy Jolliff, the score was close at 3-1 until the last five minutes of the game. She added that the score isn't that reflective of how hard the Sunnyside girls pushed themselves in the match-up.
"Both teams had about 11 shots on goal," said Jolliff. "The Selah keeper had four saves and Sunnyside's keeper had five saves."
Jolliff said the score was 2-0 at halftime. Selah's Caitlin Bersing scored her first of her three goals in the 15th minute, followed by a goal from Aly Cote in the 28th minute.
Jolliff said her team marked Selah's Bersing, one of the strongest players in the league.
"She's a great player," said Jolliff. "We did our best to contain her."
In the second half of the game, the teams were evenly matched, said Jolliff, adding that until the last five minutes of the game scoring for both teams was even.
Selah's Laura Lentz placed a ball in the net in the 50th minute of the game.
In the 56th minute of the match-up Sunnyside's Araceli Morales scored a goal off an assist from Yanet Candido. A second goal was scored by Sunnyside, but was called back, said Jolliff. She explained that the center referee didn't make a call and after the goal was made a line referee made a push call on Sunnyside.
In the last 10 minutes of the game, Jolliff said they were looking for an offensive push from Selah so they beefed up their defense.
"The defense thought they had them off sides, but the referee didn't call it," said Jolliff.
In the 76th and 77th minutes of the game Selah's Bersing was able net two more goals.
The Lady Grizzlies soccer team (4-5, 5-7) will be challenging Hanford Oct. 19 in a league game at home.