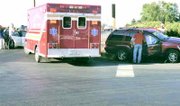 Two women, one from Sunnyside and the other from Mabton, suffered injuries yesterday afternoon as the result of a two-vehicle collision at SR-241 and Sheller Road.
At about 4:10 p.m. Wednesday, according to the Washington State Patrol, Cheri L. Salas was eastbound on Sheller Road in a 2004 Jeep Cherokee. WSP troopers said Salas, 28, of Sunnyside failed to yield the right of way and turned left onto the state highway into oncoming traffic. Her Jeep SUV struck a 1992 Pontiac Grand-Am that was southbound on SR-241.
The collision spun the Grand-Am into the northbound lane of the highway. The crash resulted in Salas' Jeep Cherokee careening across the highway, snapping the stop sign post at Sheller Road on the east side of SR-241.
The driver of the Pontiac was 29-year-old Alvaro Lara-Gomez of Grandview. The WSP report listed him as uninjured. A passenger in his Grand-Am, 32-year-old Esperanza Gonzalez-Lara of Mabton, sustained injuries, though. Both, she and Salas were transported by ambulance to Sunnyside Community Hospital.
All three individuals were wearing safety restraints at the time of the accident, said WSP troopers.
The Pontiac Grand-Am was totaled as a result of the collision. Salas' Jeep Cherokee was severely damaged. Both vehicles had to be towed from the scene.