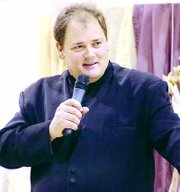 GRANDVIEW - Laughter rang through the Grandview Church of the Nazarene hall last night as Christian comedian Mike Williams entertained, inspired and challenged those attending the fund-raising dinner for the Lower Valley Pregnancy Center.
Williams, who has been featured on every major television station and is a former prop writer for Carrot Top, traveled from Lakeland, Fla. to perform at the fund-raiser.
"I'm here to celebrate that well over 4,000 were ministered to in the name of Jesus this past year in this area," he said.
Williams said he feels he has been called to be salt to a world that needs salt, light to a world that needs light and joy to a world that could use some joy.
Originally from Chicago, Ill., Williams said the reason he performs at fund-raisers for groups such as the Lower Valley Pregnancy Center is because of events in his life.
From Chicago's southside, Williams' oldest brother was killed in the streets of the city at age 17. His second brother ran away from home with friends at age 17 and went to work in the Louisiana fishing boats. Williams' brother was in a bar fight and because of the way the South worked at the time, he was found guilty and sentenced to 30 days. The brother's third day in jail some "good old boys" set his mattress on fire while he was in it and it killed him, said the entertainer. Williams said his two sisters are both drug addicts who support their habit by any means necessary.
Williams remembers meeting his biological father at age 27, who talked to him for five minutes before asking to be dropped off at a bar.
In the middle of all of the bad things in his life, Williams said his mother was the kindest woman who made one of the hardest decisions of her life and gave him away.
Living in Chicago's southside, he said a kind postman delivered to Williams' apartment building. The man would let the neighbors know when he had delivered their mail so they could hurry down and pick it up before it was stolen. He would say, "Remember, Jesus loves you," as he would leave.
One day Williams' mother asked the man a tough question.
"She said, would you take my son and get him out of this hell hole and give him a good place to live," Williams said.
An older man, he said he was too old to take on a child, but that his daughter who suffered from multiple sclerosis and son-in-law had been praying for 12 years for a child and they would love to have him.
"In this home they began to tell me that Jesus loves me," said Williams.
Six years ago the lives of Williams and his wife, Terica, changed with a single phone call.
"My wife received a call from a center not unlike yours here," said Williams.
After hearing Williams' story, they called because they had a little boy and they needed someone to adopt him.
The eight-month-old didn't meet the criteria for the homes they had lined up because of his special needs. He had asthma and came down with pneumonia twice before he was six months old.
The baby had to have breathing treatments every four hours to live.
Within three weeks, the child came to live in the Williams' home.
For 18 years the Lower Valley Pregnancy Center has been serving people in the Lower Valley, and Williams said he looks at the services provided by the center and sees how it helps people from all walks of life.
"I haven't gotten over what's been done for me or my son," he added.