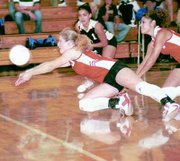 If the Sunnyside High School girls volleyball team ever figures out that it needs to play as strongly at the end of a contest as it does at the beginning of each game, the Lady Grizzlies are going to be a force with which to be reckoned.
"We have a tendency to relax after we get the score up to 15 points," said Sunnyside Coach Angel Carrizales. "I don't know why."
Unfortunately for Sunnyside, prep volleyball games aren't decided until one team reaches 25 points.
As has been the case for most of the season, the Lady Grizzlies last night lost their focus in the latter stages of each game, and came up on the short end of a 25-17, 25-16, 25-18 score to the Selah Vikings.
Carrizales said early on in each game her club displayed aggressive play and a will to win.
"We showed up and we played," she said. "Selah has a very tough defense, but we got our offense going against them."
Down the stretch in each contest, though, Sunnyside succumbed to the Vikings (10-1) and was unable to maintain the intensity it showed early on.
Carrizales added that although the individual numbers don't really reflect it, the Lady Grizzlies hit the ball strongly against the Mid-Valley League co-leaders. Christy Linde and Becca Van Pelt especially stood out at the net. Linde had nine kills and Van Pelt added five kills and two blocks. Linde also came through with 15 defensive digs.
Also posting some decent numbers for Sunnyside were Andrea Phillips with nine digs, Talia Spini with two blocks at the net and setter Kacee Jo Bootsma with 20 assists.
Thursday evening's loss on their home floor dropped the Lady Grizzlies' conference record to 1-10. Sunnyside can still secure a District playoff berth if it knocks off Wapato on the Wolfpack's home floor next Tuesday.