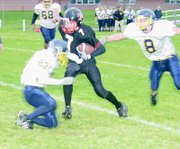 A team knows it is having a pretty good night when it racks up more than 500 yards offensively. This was how a wet Monday night went for the Sunnyside High School freshman football team against visiting Wapato.
The Grizzlies pounded Wapato 56-20 last night to improve to 5-2 on the season heading into next Monday's game at Ellensburg.
Sunnyside's lone touchdown in the opening quarter was a 23-yard pass play from quarterback Adrian Cantu to Frank Salcedo. The Grizzlies made good on a two-point conversion attempt to lead 8-0.
The second quarter saw the Grizzlies tack on two more scores. Cantu scooted in from three yards out and the other touchdown was a 22-yard pass play from Cantu to Jessie Montelongo.
Sunnyside padded its 22-0 lead with three touchdowns in the third quarter. The first was a 15-yard touchdown pass from Cantu to Brice Rinehold. Montelongo scored next on a 41-yard run. Sunnyside's last score of the third quarter was a 38-yard touchdown pass from Cantu to Joseph Villanueva.
Grizzly freshman coach Glenn Braman went to his bench late in the third quarter.
After that, the Wolfpack took advantage of some less experienced players being in the game, scoring three rushing touchdowns. Wapato made good on one of three two-point conversion attempts.
Sunnyside added two more touchdowns in the fourth quarter. Cantu scored on a 70-yard run. The Grizzlies missed the extra point attempt. The last touchdown was from Montelongo, who ran 82 yards for the score.
Braman said Sunnyside wasn't trying to score a lot of touchdowns against Wapato, but rather the Grizzlies were trying to work on executing some plays.
Villanueva had a nice night for Sunnyside, rushing for 144 yards on 14 carries. Montelongo had 139 yards on six totes. Cantu rushed eight times for 90 yards. Cantu also was 9-for-15 in the air for 219 yards.