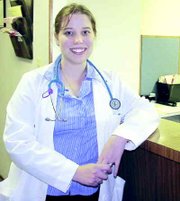 An advertisement in a job search newsletter led Rachel Mattern of Billings, Mont. to the Lower Valley, and an opportunity to begin practicing medicine in a rural setting.
She said she has long had a desire to work on the front line of medical care, working with families in rural settings.
As of Oct. 11, Mattern has the chance to fulfill that dream as a member of the staff at Lincoln Avenue Family Medicine Clinic in Sunnyside.
A certified physician assistant, Mattern is a recent graduate of the Rocky Mountain College physician assistant program in Billings, Mont. Prior to entering the physician's assistant program, Mattern worked as a phlebotomist and as a clinical research assistant in Seattle.
"My husband, Brian, and I were interested in relocating back in Washington and Sunnyside seems to be a perfect location for us," Mattern explained.
She said before becoming a phlebotomist, she was pre-med student earning her Bachelor's degree in chemistry.
"I've always been interested in rural medicine and I looked to the physician assistant program as a way to work directly with patients," she explained.
Mattern said she hopes to continue working in the Lower Valley for the long term.
"We like Sunnyside. It feels like it will be a good spot for us," she said.
. Julia Hart can be contacted at
(509) 837-4500, or you can e-mail her at jhart@eaglenewspapers.com