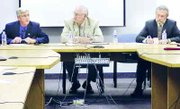 Administrators and school board members from school districts in the 15th Legislative District addressed concerns they have when it comes to the future of education in the state of Washington, Monday night at the Lower Valley School Board/Legislative Dinner.
15th District Sen. Jim Honeyford and Representatives Bruce Chandler and Dan Newhouse also talked about concerns they have with the WASL, school funding, charter schools and the future of education in the state.
Ian Grabenhorst, assistant superintendent for ESD 105, listed some concerns the educational district holds. Amongst the educational priorities Grabenhorst outlined were a focus on amply funding K-12 education. He suggested the state complete a comprehensive review of the finance system and establish a sustainable, predictable and fair state funded system for public schools.
Making a constitutional amendment that would allow school districts to pass a levy with a simple majority is also key to better education in Washington, said Grabenhorst.
He asked the state legislators to consider repealing unfunded mandates, which are difficult to implement without funding in place.
"We have requests that are set in front of our districts and no funding," said Grabenhorst.
He also asked the legislators to oppose binding arbitration and to reinforce the state's "no strike" laws.
Sen. Honeyford, in his opening comments, said one of the major issues facing the legislature this budget cycle is money.
"We'll have at least a $1 billion deficit, plus collective bargaining. We'll probably be a billion-two upside down to start with," he said.
He explained that K-12 education receives about 43 percent of the state's budget and another 10 percent goes to higher education. Corrections receives about 30 percent, leaving the state with about 20 percent of the money as discretionary.
Honeyford said they have had difficulties getting the votes to make strikes illegal, but they are still working on it.
He said he believes that questions about the WASL will once again return to the state level this next year.
"The WASL to some people is the holy grail to end education problems," said Honeyford. "I don't like it. It's terribly expensive for what we get."
Another concern is non-English speakers and the disabled taking the test.
Chandler takes a different view on the test. He believes there has to be some kind of benchmark or test to see the educational growth.
"I believe at the end of the day most students will achieve our expectations of them," he said. "If we expect great things they will rise to that."
He added that he believes there is a lot to be said for better than average students.
Chandler said a K-12 task force has been looking at education in the state and one of the areas it found of interest is special education funding.
"In areas some districts are making money on it and others are in the hole," said Chandler.
Chandler said if Initiative 884 going before voters to help fund public education is passed it will be the highest tax increase in the history of the state. He said that if the initiative fails that most likely the legislators will be reluctant to increase taxes.
"If it passes it will probably be the only tax increase passed mainly because of its size," said Chandler.
A concern Chandler has with the initiative is that if the 1 percent increase in retail sales tax for K-12 education is put in a fund and decided upon by a citizen oversight committee, he foresees the legislature having very little input on public education.
One of Newhouse's main concerns is the class of 2008 being required to pass the WASL to graduate.
"There's concern about the dropout rate if we don't do anything about it," said Newhouse.
But, some changes may be afoot at the state level.
Currently, there are 25 Republicans in the Senate and 24 Democrats. With four close races, Honeyford feels it's too close to call what it will be like next year.
The House of Representatives has 52 Democrats and 46 Republicans.
"That six-vote difference was determined in the last election by 1,700 people," said Chandler. "This year we expect voter turnout to exceed 70 percent. Ten percent of voters in Yakima County could be new voters, which creates a lot of uncertainty."
Local pastor and a member of the Sunnyside School District's ethics committee, Ron Jetter, addressed the trend to combat obesity at the school level by banning certain foods and beverages from school grounds. He asked if the legislators anticipate a state law that would ban certain foods.
Chandler said that last year two bills in the House addressed child obesity. One of the bills would have banned certain foods from being sold on school grounds. The other, known as the "Fat Tax," would have taxed foods based on ingredients. The problem, he said, is that some candy bars would be taxed and others wouldn't.
Chandler anticipates at least one proposal this year, but he would much rather leave it at the school board level.
In all, the legislators are looking forward to an interesting session. They said they appreciated the input from those who are on the front line of education, which helps them in their decision making process in Olympia.
The light at the end of the tunnel, Honeyford added at the end, is that the economic downfall the state has been experiencing is expected to end in 2009. He anticipates programs that have been neglected with funding, such as education, will receive more funding.
. Melissa Dekker can be contacted at (509) 837-4500, or e-mail mdekker@eaglenewspapers.com