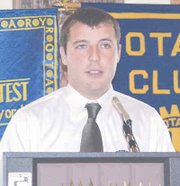 As one of the newest members of the Sunnyside Noon Rotary Club, Rob Crum is learning his way around the group of Sunnyside business owners and community professionals. Monday, the club members had an opportunity to learn a bit more about the third generation Eastern Oregonian, who is now the manager of the Sunnyside branch of the Farm Credit Service.
A recent graduate of Oregon State University, Crum has been in Sunnyside for the past nine months, offering lines of credit to area farmers and agriculture-related businesses.
"I come from a long line of farmers," he told the group, saying his grandfather and father are wheat farmers in the small community of Ione, near Hermiston, Ore.
"It's a town of 250 people and I graduated with 10 people in my high school class," he said.
"I know ag-communities," he added. "But my father discouraged me from becoming a farmer," he added.
But unable to stay away from agriculture, Crum decided on a career that offers financial aid to farmers like his dad.
Crum attended Blue Mountain Community College before transferring to Oregon State, where he earned a degree in agriculture business. "I like crushing numbers and going out and kicking tires with farmers," he said.
He said the Farm Credit Service has a long history of offering farmers low interest loans. Crum said he sees his job as a way to help maintain the security of the nation's food supply.
"We help to keep agriculture in America," Crum said.
He said the Sunnyside branch of the Farm Credit Service is part of the Northwest Farm Credit Service, which is one of five credit unions located throughout the United States.
Crum said in addition to offering farmers low interest lines of credit for their farming operations, the Farm Credit Service also offers farm business classes for young farmers, incentives for staying in farming and low interest housing loans.
"Our agency has been around for 85 years, setting the lending standards for dealing with farmers. They know we will be there for them," Crum added.
. Julia Hart can be contacted at
(509) 837-4500, or you can e-mail her at jhart@eaglenewspapers.com