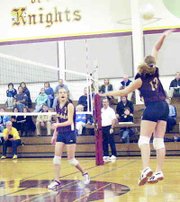 The scores might not reflect the skills which with the Sunnyside Christian High School girls varsity volleyball team displayed Tuesday night against Riverside Christian High School. But a look at the number of the Lady Knights' digs and kills reveals a hard fought match against the powerhouse Lady Crusaders (10-0, 14-0).
The Lady Knights dove for 59 of Riverside's flying spikes and were able to land 30 kills of their own.
Despite the yeoman effort, the Lady Knights lost to Riverside in three sets, by scores of 25-9, 25-9, 25-23.
"We really did play better than the scores indicate," said Knights Coach Andrea Dobson. "We really passed well, and in general we just played better as a team," she said.
The fast and furious match held last night in Sunnyside saw Riverside Christians' girls fully in charge of the first two sets, chalking up quick 25-9 scores. But Sunnyside Christian made the Crusaders earn the final set of the night. The two teams tied for most of the match, with the sparring resulting in a number of intense volleys. But in the end a diving spike from Riverside's on- fire Sharelle Wells ended the match at 25-23.
"I'm really proud of the way we played," said Dobson. She praised senior Heather Van Wingerden, who was honored as the team's lone senior during Tuesday's match.
"Heather did a great job of passing the ball," said Dobson. Van Wingerden also dove for 14 digs, and landed five kills. She also claimed three blocks and two service aces for the evening. Dobson also praised Chelsey Jones, who spiked 12 balls on the Riverside players and came up with 12 digs. Jessica Schrotenboer also claimed seven kills and went for eight digs. She also added five service aces.
"Courtney Rice contributed some nice tips with four kills and 10 digs," said Dobson. Tori Van Wingerden got the ball to the hitters with 22 assists and five digs, she added.
Friday, Sunnyside Christian will travel to Glenwood for the final league match of the season, before attending the East Valley Invite on Saturday.