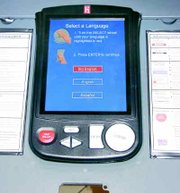 Those voters who didn't get a chance to use Yakima County's new eSlate voting system during last month's primary election still have a chance to familiarize themselves with the machines before Nov. 2.
The Yakima County Auditor's Office has placed two demonstration machines in the Lower Yakima Valley. The demonstration machines give voters a chance to walk up to the voting booth, and actually go through the action of casting a demonstration ballot.
"We felt if we had the machine here, people would feel comfortable coming in here and asking us questions," said Gabriel Martinez, station manager of Radio KDNA.
The radio station at 120 Sunnyside Ave. in Granger is one of two locations in the Lower Valley where demonstration machines are set up for voters to get a closer look. A voting machine is also set up at Grand Cinemas, located off of Interstate 82 at exit 69 in Sunnyside. The machines will be on display at these locations through Monday, Oct. 25.
Martinez said staff members at the local radio station are bilingual, which is another reason he felt it was important to have a demonstration machine set up in the building.
The eSlate voting system replaces the county's old punch-card system of voting. The elimination of the punch card system was required through legislation passed by the federal government.
The eSlate machine is able to serve the general public, voters with disabilities and can provide people with a bilingual ballot.