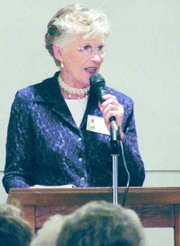 PROSSER - The road of life does not always make for easy traveling. There are often unexpected detours and rough roads. Monday afternoon, Elaine Andvik, a retired registered nurse and grandmother of 10 from Stanwood, talked to members of the Lower Valley Christian Women's Club about her experiences traveling down the road of life.
Andvik grew up in the midwest, a place where many of the roads were straight and there weren't too many turns.
"There were many flat plains, which made for easy driving," Andvik said.
And that's exactly how her life began. She grew up with a twin sister, and led a carefree life on the family farm.
Andvik noted that it wasn't until quite a few years later in her life that she would experience a detour.
"Some detours in life are of our own making, some are unavoidable," she said.
The detour Andvik talked about came when her parents decided it was time to move out of the midwest and go west.
"It was a trip I will never forget," she said.
Andvik said her family piled into a 1938 Chevrolet with a trailer and made their way over the Horn Mountains in Wyoming, on their way to the coast.
Once the farm family found their new home, Andvik said she and her sister found themselves suddenly thrust into a new way of life. The family now lived on the outskirts of a large metropolitan area. She noted that she and her sister went from attending classes at a country school house, to going to a large city school.
Andvik said during the summers she can remember working in the bean and raspberry fields, earning money to help her family.
It was in Andvik's teen years that her life would take another detour. She told the women in attendance that she had grown up in a Christian family, but had never made the decision for herself to accept Jesus into her life. Then one day at summer camp, a speaker talked about how important it is for everyone to make that decision on their own.
It was there at camp that Andvik accepted Jesus into her life, and changed the course she was following. Andvik explained that it was at camp that she learned that God's road was running parallel to her life road, and that all she needed to do was build a bridge between the two.
"The decision I made at camp was to ask the Lord to forgive my sins and take my life into His hands," Andvik said.
As Andvik entered into adulthood and started working in her chosen field of nursing she came across many different people whose lives were headed down the same road hers was before she accepted Jesus into her life.
However, for Andvik the road of life seemed to continue on rather smoothly. It wasn't until after 29 years of marriage that her life took another unexpected detour. One night her husband was rushed from their home to the hospital after suffering several grand mal seizures. Andvik's husband was then diagnosed with a brain tumor and was told he had one year left to live.
Andvik said after the diagnosis she lived the next few months of life in uncertainty and fear. She added that during that part in her life she often found herself looking around at the world and wondering how it could go on when she and her family were under such stress.
Andvik said it was with the help of friends and family that the rough road she was traveling on, dealing with her husband's illness and ultimately his death, was eventually made passable again.
"I had to come to terms with the fact that pain and evil invade eveyone's life at one time or another," Andvik said.
It was more than a decade ago that Andvik found her life taking another turn. She met another man, someone who had also lost his spouse, and together they found that they were able to support each other. Andvik said 10 years ago the two got remarried.
Then only four and half years ago, Andvik said the road of her life became rough again. She was diagnosed with breast cancer. She said it has been with God's help and the love of her family that she has been able to deal with all of the detours and rough roads in life.