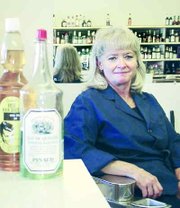 GRANGER - Getting established as a beautician or barber is something that can be difficult to accomplish. For Granger barber Gail Johnson, the owner of Stanton Family Barber Shop, the process involved moving her chair into the local liquor store.
For the past 16 years, Johnson has been serving the community of Granger, both with their haircare needs and the management of the local liquor store.
Johnson said she decided to go into the field of cosmetology some time ago.
"I needed a trade," Johnson said.
So she started attending classes at the beauty school in Wapato. After graduating with her cosmetology license Johnson spent time working at several Lower Valley beauty salons.
Johnson said after the Grandview beauty salon she had been working at decided to close up shop, she had a tough decision to make. She added that she found that getting established as a stylist was easier said than done.
Then Johnson turned her attention to Granger. She noted that the small town didn't have a barber shop, and decided she wanted to try to fill the void.
Johnson said when she first set up shop in Granger she was located in the office of a local gas station, and found herself not only cutting men's hair but also working on women. She said she would often stay after hours to give women perms.
Johnson would be located at the gas station for only a year and half before being selected to manage the liquor store in Granger. Johnson said the previous manager of the store decided to retire and was looking for a replacement. She explained that whoever took over operation of the liquor store needed to have a business to occupy the rest of the space in the building.
Johnson soon moved her barber chair into the storefront on Main Street, and has spent the last 16 years balancing her time between cutting hair and working behind the counter on the liquor store side of the building.
Johnson said although moving into the liquor store location helped her get established in the town, it still took a couple of years for people to realize that she wasn't going anywhere, her business was in Granger to stay.
Now, Johnson said she has a long list of regular clients who come in for their haircuts. She added that she still cuts women's hair, though with running from the barber chair to the liquor store counter, she no longer has time for things like perms.
Having been in business for so long, Johnson has seen a lot of styles come and go. She said now men are leaning towards shorter haircuts, adding that she is happy to see the bowl cuts of previous eras falling out of favor.
Serving the community of Granger in the capacity that she does has meant that Johnson has had a chance to really get to know people in the community. She added that not only does she serve as the local barber and manager of the liquor store, but her small storefront also includes a Pacific Power drop box.
"Being in a small town I have had more of a chance to get know people," Johnson said.