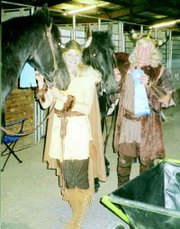 OGDEN, UTAH - Granger couple Willem and Teresa Bron just returned from a three-day trip to Ogden, Utah, where dressed as Vikings, they took first place in the Costume Cavalcade and Musical freestyles competition held at Friesian Extravaganza 2004.
The couple, who breed the majestic Friesian horses, also competed in the carriage, dressage and working horse contests, said Mrs. Bron.
The Brons competed against Friesian owners from all over the Northwest, Texas, Minnesota and Canada at the three-day show, she said.
A former Western style rider, Mrs. Bron competed in the dressage contest at the Northwest event, earning fourth place honors. Her husband took fifth place honors in the working roe category.
"This is the first time we have attended the Northwest Friesian Horse Club-sponsored event," she said. More than 250 horses were on display at the show, which included a trade fair, sales barn, seminars and the Friesian competitions.
"They have wonderful dispositions and are very personable horses," said Bron of the elegant horses which originated in the Friesland Providence of Holland.
The Friesian breed once was nearly extinct, but have been growing in popularity in Europe and the United States during the past 20 years, where the breed is prized for its beauty and athletic attributes, she said.
She said her husband purchased his first Friesian mare in 1999, about the time she began riding the breed.
"We now have seven and one on the way," she added. "We took two of our horses, a mother-son team, to Utah for the show," she said.
"It was really exciting and we plan to go again next year," she added.
. Julia Hart can be contacted at
(509) 837-4500, or you can e-mail her at jhart@eaglenewspapers.com
photo courtesy of Teresa Bron
Dressed as Vikings, Teresa and Willem Bron of Granger took first place honors in the costume portion of Friesian Extravaganza 2004, held Oct. 14-16 in Odgen, Utah. The Friesian horse show was the first for the couple who only recently began breeding the Dutch breed of horses.